Donald Trump – Is he a fascist?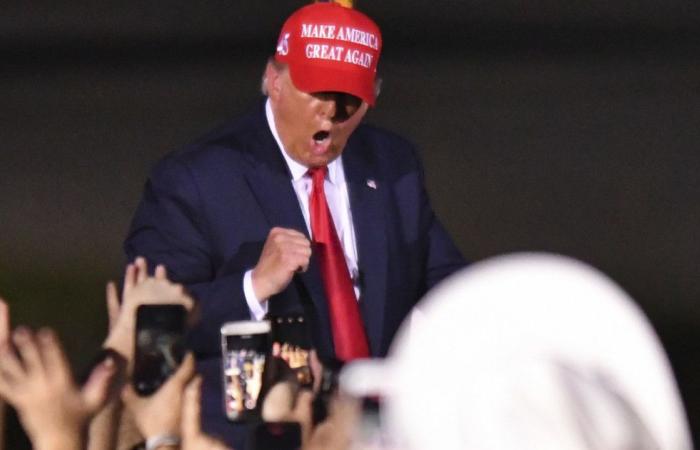 The question has been asked since the first moment after Donald Trump was elected. I myself experienced the political passions around this issue all in the autumn of 2016. Then Trinity College in Hartford, Connecticut, invited to a public seminar on the topic. There the views wavered a whole day. The temperature was high.
Afterwards, a history professor pulled me aside and said: – Regardless of whether Donald Trump satisfies the criteria you set for classical fascism, we must have that label affixed to him! We must do everything to stop the dangerous populist!
But how apt is it to call Trump a fascist?
History does not repeat itself, but it rhymes, says Timothy Snyder. The Yale historian has written insightful books on the massacre of totalitarian regimes in the 20th century.
The other day (Dagbladet 21.10) he drew the parallel from Trump to Hitler and Mussolini: Throughout his career, Trump has behaved in a fascist way, Snyder said.
Homecoming from the hospital on the balcony of the White House was like a replay of Mussolini. Trump divides the totalitarian dehumanization of the other party into "them" and "us"; he criminalizes the other party (about Hillary: "lock her up"). He sells fear. He feeds on violence and does not condemn white racism (good guys on both sides in Charlotte, Virginia).
Trump gives people what they fantasize about, a temporary intoxication. He plays with the idea of ​​coups and turns politics into "images" and emotions; he is a virtuoso demagogue.
Authoritarian in every country, unite
Trump cultivates authoritarian leadership and power, and asks Americans to sacrifice themselves for nothing. His US image is empty. His only interest is himself. And the fortune.
Trump's behavior after being infected is reminiscent of a form of sadism: Trump is working to get rid of health insurance for millions of Americans right now, saying "you will like it." So far Tim Snyder.
We can add: Trump speaks down the media (they are "enemies of the people", a Nazi term that Stalin also liked). At the same time, he systematically operates with lies. Man is created by the media and modulates them brilliantly himself; the world for him is virtual.
Trump's mass rallies are taking on more and more the character of baptism and liturgical laying on of hands for believers.
He uses skin color to question judges' objectivity. At one point, he downplays science and does not want to wear a face mask because it hurts his manhood. He reveals a bottomless ignorance of the world outside the United States. He shows a contempt for weakness reminiscent of the essence of Nazism (he snorts at the weak and "losers", even killed in war).
He scurries carefully around dictators. His mythological nationalism complements the image of a ruthless populist in the tradition of Louisiana Governor and racist Huey P. Long in the 1930s.
As a slogan, the term can "Fascism" can be effective in branding an opponent. But the mental benefit of such language use is zero. If everything is "fascism", nothing is fascism. The term must therefore be defined to make sense.
Definitions also have the advantage that they emphasize what is to be explained. Such a delimitation also in turn enables us to better shape resistance strategies against a fascist or a far-right development. Although it is often said that fascism comes again, it is not like classical fascism.
Usually understood the interwar version of European fascism along three dimensions:
1. The three anti-positions. Fascism is anti-liberal, anti-communist and anti-conservative, with the important proviso that fascism is always prepared to compromise – at least temporarily – with conservative parties.
2. Fascism is characterized by a new nationalist and authoritarian state that transcends traditional principles and role models.
The goal is a new type of regulatory, multi-class and integrated national economy that to a certain extent evens out the social structure – regardless of whether the result is called National Syndicalism, National Socialism or National Corporatism.
In foreign policy, most forms of fascism stand for territorial expansion, not infrequently with violence. They are in favor of a dramatic reorganization between nations.
Culturally, all fascism aims to create an idealistic, willful belief with a view to laying the foundation for a modern self-determined, secular culture.
3. Aesthetic organization of mass meetings with a choreography that highlights the movement's mythical and / or mysterious roots. Irrationality is a common feature.
Mass mobilization of the people with a military feel, with the intention of creating an armed party militia.
Positive attitude towards violence, not only as a tactic but as a cleansing.
Extreme emphasis on male dominance, in combination with an organic view of society: each of the parts is assigned a "natural" place.
Youth worship with community within a strict national order.
The driver's unrestricted power, charismatic leadership role.
What happens if he "wins"?
European fascism assumed different forms depending on geo-political location, local, national political culture and experience. The United States lacked – and lacks – most of the European preconditions for fascism (Roosevelt came instead).
Trump immediately stands out in at least five ways:
He can hardly be called anti-Semitic.
2. He is not looking for territorial living space à la Hitler. On the contrary, he wants to withdraw the United States from foreign wars.
3. He does not stand for his own militias in attempts at mass mobilization. (Though the armed fraternal clubs he now supports are beginning to resemble. He asked them to "stand back and stand by").
4. He does not try to subject the armed forces to his own political control (the Pentagon is probably today the main barrier to coup adventures. At the same time, we see that Trump is trying to politicize the police, cf. the unmarked troops to Portland).
5. He has worked with the country's security and surveillance apparatus. They can hardly be used for coup attempts. But he will surely try to put his people everywhere if he for four new years. In 1933, control of these organizations was Hitler's main goal.
That's probably the most fruitful to understand Trump as a media figure who sees his identity as a "doer", a "no nonsense" money man. Such bred the unreserved contempt of the fascists. "Plutocrats" they called them, and the Nazis linked the Jews to them.
The fascists saw their mission more in spiritual terms, as a struggle against decadence and national marginalization under finance and monopoly capitalism and under the threat of a revolutionary working class.
But in Trump, the contours are felt of the left wing of fascism. He pretends to help the little man, at the same time as he frees up the financial capital for all control measures and eases the taxes for the super-rich United States. He plays, like the Nazis, in contempt for the center (Berlin with its decadence was an object of hatred for the NSDAP, as Washington is for the Trumpians.). He paints the fear of the "socialists".
Here are the important nuances. For in all fascism there is an egalitarian tendency, an equalizing curve away from established economic and other elites. This anti-capitalism of fascism is completely missed by Trump.
His past idyllization ("Make America great again", but what greatness?) Is reminiscent of the isolationism of the interwar period and the America First ideology (with Charles Lindbergh as an important exponent). It is a utopia of the past ahead of all, without rebellion against authority, with women in the kitchen, without open sexual minorities, with kind children without the urge to rebel and with ethnic minorities in well-placed submissiveness. Of men, for men, with men.
Trump is reacting to a country in decline, from his point of view. It is an experience many fascists could agree on.
Any debate about Trump's kinship with fascism will increase in clarity if one makes a systematic comparison with traditional right-wing nationalism.
The Battle of the Midwest
Traditional European right-wing radicalism, or right-wing nationalism of the non-democratic kind, reacted against the secularism and mass appeal of fascism, against their Nietzschean cult of life and the aestheticization and militarization of politics, especially the use of violence. The popularity of fascism was the threat. Alliance mob / elite. And that the fascists only used religion as an election tactical springboard.
Who is he then? The picture of Trump against this background is unclear. Trump's nationalism is of a different type than that of classical fascism, less aggressively directed outwards (but it shares racism). Trump also shares left-wing fascism's attempts to appeal to the working class, but without taking the structural measures in the economy that would provide equalization.
Trump's appeal stems from his ability to see non-college-educated Americans' disappointment that social mobility has fallen away, and that deindustrialization, technological marginalization, and economic decline have replaced it. He appeals to the self-esteem of these strata through his demeanor, his language and his macho attitude. He sees them – hence the intensity of those who support him, and their ineffectiveness of arguments. It goes on their identity.
The paradox for us is that Trump is admired for not paying taxes – it comes from the American fear of the state, which is the main difference to the Nordic countries. It also amazes us that even good Christians ignore his vulgarities and lies ("that is the way he is", they say).
So what is Trump? After four years in the White House, this is my suggestion: Donald Trump is a media-created narcissist with racist tendencies, an authoritarian America First-type populist who cultivates the popular appeal of populism without advocating the reforms that could help America's many underprivileged . His demonization of his opponents, his anti-democratic reflexes and his fixation on violence reduce the distance to classical fascism.
Trump is no fascist. But he rhymes.
These were the details of the news Donald Trump – Is he a fascist? for this day. We hope that we have succeeded by giving you the full details and information. To follow all our news, you can subscribe to the alerts system or to one of our different systems to provide you with all that is new.

It is also worth noting that the original news has been published and is available at time24.news and the editorial team at AlKhaleej Today has confirmed it and it has been modified, and it may have been completely transferred or quoted from it and you can read and follow this news from its main source.