Loyal to Trump, conservative Christians stand as one of the president's...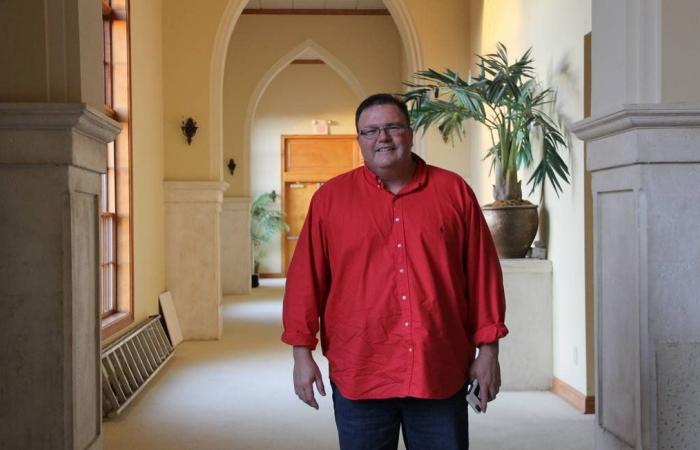 GREENSBORO, USA – "God bless President Trump," says a billboard on I-95, the interstate road that runs along the East Coast of the United States, as it crosses North Carolina. Religious messages of support for the president are common in the Bible Belt, which spans the southern United States, from Texas to Alabama and the South and North Carolinas. In this arc, conservative evangelical Protestantism plays a stronger role in society than in other regions, and that role spills over into politics.
For most Protestant voters in the region and other more conservative ones in the country's Midwest, the four years of Trump's administration meant a period of fulfilled promises and recognition of the power of a hitherto neglected and even belittled voice by Hollywood and the media. .
– Jesus gave a parable that is perfect for elections – Pastor Jim Muld told GLOBE last Wednesday, just before the service began at the Greensboro House of Worship, using the voice assistant to open the "parable of two children "on the cell phone. – A man had two children and asked to go to work. The first said "yes, I will", but it was not. The other said "I won't", but then he thought better of it and went. Jesus asked: who was the most just?
Paradoxical Alliance
The relationship between Trump and evangelicals may seem paradoxical at first. The TV presenter tycoon even defended that women could decide about abortion, is in his third marriage and adopts a little conservative style in words and attitudes. In 2015, he put himself as the Christian candidate and said he attended a church in Manhattan that denied that he was a faithful assiduous.
Campaign: Trump seeks to reverse disadvantage in states where he won in 2016, while Biden wants to contain optimism
Despite the apparent contradiction, the support is explained for one reason: the group understands what Trump does, while others just promised, as in the parable read by the pastor.
Among Trump's promises in 2016 were the move of the American embassy in Israel to Jerusalem and the appointment of conservative judges to federal justice and the Supreme Court – who could, in the future, reverse the decision that paved the way for legal abortion in all American states. Both were fulfilled.
– He loves the USA and the people of God – says housewife Sarah Bazen, who wore a T-shirt with the words "Jesus is my savior, Trump is my president" at Trump's rally in Greenville, North Carolina, last fifth.
No more 'perfect houses': Suburban women rebel against Trump
Attending a Baptist church, Sarah traveled 250 kilometers from her home in Asheboro to attend the rally with family and friends.
"This president has given us a voice," says the 31-year-old housewife Charity Younts, who was also a member of the Asheboro group. – He gave Christians a voice, people who are pro-life a voice, people who are pro-Israel a voice, and, for the first time in many, many years, probably since Ronald Reagan, we feel that we have someone who supports us.
The sentiment that Charity describes is similar to that of other evangelicals from the president's base. She says that, before Trump, she felt that her belief didn't matter and that Christians were "second-class citizens".
– It seemed that everyone had a voice: Muslims, other religions. What is good, is the beauty of the USA. They must have a voice, but our voice has been silenced in an attempt to protect other religions.
Without debate: In tense conversation, Trump is pressured to answer about viruses, taxes, conspiracy theory and power transition
White evangelicals have been Trump's most loyal base since the beginning of his term: 78% say they will vote for the president, according to a poll from this week's Pew Research Center. Among black Protestants, the figure is reversed: 90% will vote for Biden. Non-evangelical Protestants and white Catholics also support the President, but with a much smaller margin of difference: just over half prefer Trump to Biden. If Latin Catholics are added, Biden narrowly wins.
– The evangelical base cares about two themes: abortion and themes related to the LGBT + community. They really want to reverse Roe x Wade and change the Supreme Court – says David Schultz, professor of political science at Hamline University, in reference to the 1973 decision that allowed abortion in all states. – They like Trump more than George Bush and even Reagan, because, in their view, he is delivering results on important issues. They don't care about their personal lifestyle.
Accusation of censorship: Republicans attack Twitter and Facebook after vetoes contested Biden report
In addition to the White House dinners for religious leaders, Trump has also endeavored to demonstrate the group's prestige in other ways. In his dispute with the media, he gave preference to Christian media: in his first year in office, he gave more interviews to Christian Broadcasting Network, by televangelist Pat Robertson, than to the major television channels CNN, ABC and CBS.
North Carolina is among the ten most religious states in the United States, with 66% of its inhabitants praying daily, according to Pew. The state is home to Billy Graham (1918-2018), the "pastor of presidents", who had hearings with occupants of the White House from Harry Truman to Barack Obama.
Late last year, the editor in chief of Christianity Today magazine, linked to Graham's legacy, published an editorial in support of Trump's impeachment. Despite the great repercussion, the text ended up resulting in the departure of the editor, Mark Galli. It was evident that the evangelical community's support for the president remained strong.
In search of character
Strong, but not the same as four years ago. This week's Pew Center survey showed that white evangelicals' approval of Trump slipped: from 76% to 72% over the Presidency. Among non-evangelical Protestant whites, it fell from 60% to 53%, and among other religious groups it is below 50%.
– I grew up in the church, and at the time it was significant to say that you went to church: people thought they could trust you – says truck driver Joe Coltrane, 48, who attended the service led by Pastor Jim in Greensboro (the state allows during the pandemic).
Coltrane is a strong opponent of legal abortion – "I love her!", Says about the Supreme Court nominee by Trump, Amy Barrett – and confirms the feeling that Hollywood would have betrayed Christians by treating them like fools or crazy in films and series.
– I had a sticker on my car that said "I love my church", and an atheist guy from my job attacked me constantly, even though I was always kind.
Against the media, masks, socialists and the 'plague of China':Inside a Trump rally
Despite having voted for Trump four years ago, Coltrane does not support him unconditionally. The evangelical church he attends is undergoing changes: although almost all of the 50 faithful who attended the Wednesday service were unmasked and many confirmed that they voted for Trump in 2016, some show concern for his character, his way of buying public fights and more aggressive policies against human rights, such as the separation of children from their families at the border. They even wonder if a new vote of confidence will be worth it.
– I look for character. I would like to have a person with character, like Obama. It was wonderful to have an African American man up there who African American children could look at and say "we are great, we are good people, God made us and we can be great too". That meant a lot to me, not the fact that he is a Democrat – says Joe, who is registered as a Republican, voted for Obama in 2008 and is in doubt about what he will do this year. – I'm a truck driver, I have to spend a day on vacation to vote. And I'm really indecisive.
These were the details of the news Loyal to Trump, conservative Christians stand as one of the president's... for this day. We hope that we have succeeded by giving you the full details and information. To follow all our news, you can subscribe to the alerts system or to one of our different systems to provide you with all that is new.

It is also worth noting that the original news has been published and is available at time24.news and the editorial team at AlKhaleej Today has confirmed it and it has been modified, and it may have been completely transferred or quoted from it and you can read and follow this news from its main source.