'We can survive a year of lockdown'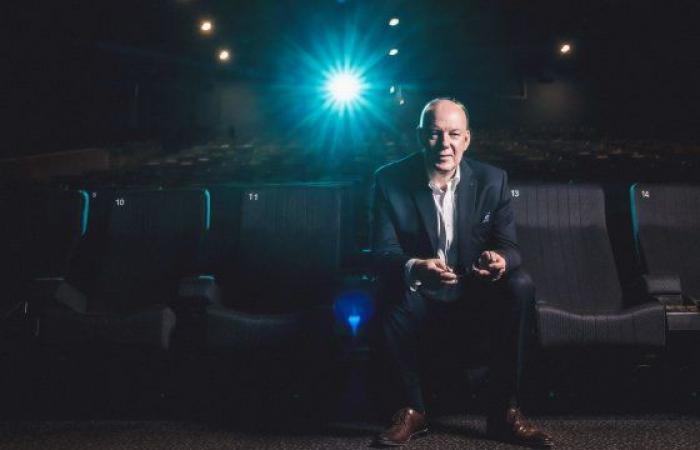 The cinema giant Kinepolis is in the middle of the corona storm and has already seen 70 million euros in cash flow this year. 'Fortunately we are strong in our shoes. We can handle a global lockdown of one year, 'says CEO Eddy Duquenne.
'I never thought I would have to manage a crisis a third time in my career. But bon, we have to get through. ' Eddy Duquenne has headed Kinepolis for 13 years, which operates cinemas from Spain to Canada.
Previously, he was involved in a life-and-death battle at Sunparks. 'I started there with 250 million euros in arrears. That was working day and night, 'he says. 'My second crisis period? My start at Kinepolis. The company was not doing very well, you know. The return on capital was barely 8 percent, which was then little more than the three-year interest rate. '
Under Duquenne, Kinepolis grew into a well-oiled machine with high profit margins. Investors loved the dividends. Duquenne went on a takeover path, as far as the US and Canada. 'That is why we started this crisis strongly. Happy. But there is no good side to this virus. Kinepolis is not getting any richer either. '
There is no good side to this virus. Kinepolis is not getting any richer either.


Eddy Duquenne
CEO Kinepolis
That the pandemic is striking at Kinepolis is an understatement. In addition, there are cracks in the business model of the cinema groups, with Disney's decision to immediately throw the blockbuster 'Mulan' on its streaming platform. While the stock market value of Kinepolis peaked at 1.7 billion euros last year, it is now barely half a billion.
The first half year already turned blood red due to the lockdown measures. The reopening in the summer led to a recovery. But there was no overrun in the halls, partly due to the postponement of Hollywood blockbusters, except for 'Tenet'. Result: 2.4 million visitors in a quarter, three quarters less than last year. Fortunately, turnover fell a bit less and the gross operating profit was positive. And October was very good. '
However, the financial resources will continue to flow out of the group, from almost 200 million euros before the pandemic to 127 million euros at the end of September. And that does not seem to stop immediately with the new mandatory closures.
This week it was decided to close the cinemas again in Belgium and France. What do you think of that?
Eddy Duquenne: 'We cannot deny the epidemiological situation. We have to tackle it, persevere and go to the end. Japan, New Zealand, Australia have solved it too. We just have to eradicate that bug and start over. Phasing out measures too early is not an option. We learned that. Our sector is in a storm and I think we need to show solidarity. I do think that we should opt for a full lockdown, not for intermediate forms, because that doesn't work. Then people start organizing their entertainment themselves. '
Studies applied economic sciences.
Starts his career as a counter clerk at the ASLK in Jette, and grows up to manager in the business department of Fortis Bank (ASLK).
He was co-CEO of Sunparks from 1998 to 2007 together with Mark Vanmoerkerke.
Joined the Kinepolis Board of Directors in 2007 as an independent director.
As of January 1, 2008, he is co-CEO of Kinepolis together with Joost Bert.
Has been CEO since 2018.
Is ex-manager of Gimv.
Do you blame Belgian politicians for their approach?
Duquenne: Criticizing is easy. I would hate to be in their shoes. We shouldn't be talking now. Negativism gets us nowhere. '
Should the Belgian government come up with support for the sector?
Duquenne: 'They are always welcome, but Kinepolis doesn't need that. If they support the entire sector, I also wish to receive support, of course. Otherwise, we will be punished for being thrifty. But the government cannot pay for everything, you will have very different problems in the long run. I do expect that support for economic unemployment will remain intact. We have paid a lot in this country for our social security, which must now be running. '
When do you think you will be able to work at full speed with Kinepolis again?
Duquenne: 'I do not know. I think we will soon have to close everything in Europe. I do not rule out that that is for two or three months. I hope to be able to reopen then and be up and running by the summer as before. I do not exclude that we will then have wonderful times, because we missed being together and the cinema. '
Since the start of the pandemic, 70 million euros (including 19 million euros in investments) has already flowed away in cash. Investors are not reassured about this. Do you get nervous too?
Duquenne: 'Not really. We entered the crisis with a lot of financial resources available (196 million euros), a low debt position (2.57 times EBITDA) and a strong balance sheet. We also own a large portion of our real estate, the value of which exceeds our debts. '
Research indicates that Netflix viewers often visit movie theaters. It's like food lovers. Those who enjoy cooking at home most often also go to a restaurant.


'Our competitors, including the American AMC and Cineworld, have started with much more debt. Even one bad season had already given those guys sleepless nights. I still sleep well, but of course I don't like it either. We lose money every month and the patience of our employees. Some have been economically unemployed since March 15. That starts to weigh. I focus on getting the company through the storm and don't complain about each individual case, but I do realize it. This wave will have more impact than the first. What felt like a long vacation for some in the spring will no longer be. '
Which worst case scenario are you considering?
Duquenne: 'Suppose all our halls close. Then that means a cash outflow – from our operations – of 5.8 million euros per month. Some costs continue to run: withholding tax, insurance, running the heating, especially in Canada. We will also continue with our new construction projects. That way we can continue for twelve months. But is it realistic that everything will stop for another year? I do not think so.'
Is there an emergency plan after all?
Duquenne: 'We paid our landlords, suppliers, film studios and taxes properly. We are not lagging behind. You can put some extra stretch on that. We could also put ongoing construction projects on hold. A capital increase is something we consider less. We do talk with the banks about extra credits. That would give some extra comfort. But if you know that in the extreme case we use 5.8 million euros in cash per month, you don't need much to add a few months. '
While the cinemas see black snow, Netflix is ​​attracting new subscribers en masse. A competitor that keeps getting bigger?
Duquenne: 'Is that a competitor? Research indicates that Netflix viewers often visit movie theaters. It's like food lovers. Those who enjoy cooking at home most often also go to a restaurant. I think Netflix has a lot more impact on classic television than on us. '
Surely you cannot deny that there are cracks in the cinema business model. Because the cinemas are closed, Disney launched its top film 'Mulan' immediately on its streaming platform Disney +, for $ 30 on top of the subscription. MGM is now also looking for a streaming channel for the new James Bond.
Duquenne: Disney has had to close its theme parks. MGM owns many hotels in Las Vegas. They are going through difficult times and have to generate cash. They do it like this, instead of postponing the launch until next year. '
Visitors: 40 million.
Cinema complexes: 110 in Belgium, the Netherlands, France, Spain, USA, Canada, Switzerland and Luxembourg.
Turnover (2019): 551 million euros.
Ebitda: 145 million euros.
Net profit: 56 million euros.
2020: the figures are hit hard. Turnover fell by 52 percent in the first six months, resulting in a net loss of 30 million euros. In the third quarter, the sales dip even reached 75 percent.
Main shareholder: the West Flemish Bert family with almost 50 percent of the shares.
Isn't that a bit blunt?
Duquenne: 'Ultimately, the water always runs to the sea. The highest added value per 'couple of eyeballs' comes from cinema. That is and will remain so. In Europe, cinema accounts for 55 percent of film revenue. The studios are well aware of this, otherwise the majority would not postpone its blockbusters. What Disney and MGM are doing are experiments, out of necessity in exceptional times. Now you may also have a meal from your favorite restaurant delivered to your home, but as soon as the weather is possible, you go to a restaurant. It's a different experience. We also have to reinforce that experience at Kinepolis. '
How for example?
Duquenne: Avatar without 3D is no longer Avatar. We already do a lot with technology: laser projection, immersive sound, moving seats. Some customers get some extra privacy with cozy seats, extra space for a higher price. That is a great success. It gives a little bit of that moment of happiness when the doors of the plane close, and you see that no one is sitting next to you. '
Are you a binger yourself?
Duquenne: 'I have a subscription to Netflix. But do I still have time to watch? No. If it stops in Europe, the Americans and Canadians will wake up and I'll be busy with them. We used to be a well-oiled machine, but now everything is different and my country managers have to consult me. Everything is new to them, everything is new to me. These are hectic months. '
What was your last movie in the cinema?
Duquenne: " Drunk ', the opening film of the Ghent film festival. Very good. We are looking at programming it in the US and Canada as well. As I also expect that we will play Netflix movies, because it also needs the cinema, and we need them. Discussions have been going on for more than a year, but they are always about the modalities, money and the exclusivity period. '
These were the details of the news 'We can survive a year of lockdown' for this day. We hope that we have succeeded by giving you the full details and information. To follow all our news, you can subscribe to the alerts system or to one of our different systems to provide you with all that is new.

It is also worth noting that the original news has been published and is available at news1.news and the editorial team at AlKhaleej Today has confirmed it and it has been modified, and it may have been completely transferred or quoted from it and you can read and follow this news from its main source.