"Proof" that the virus behind COVID-19 does not exist does not...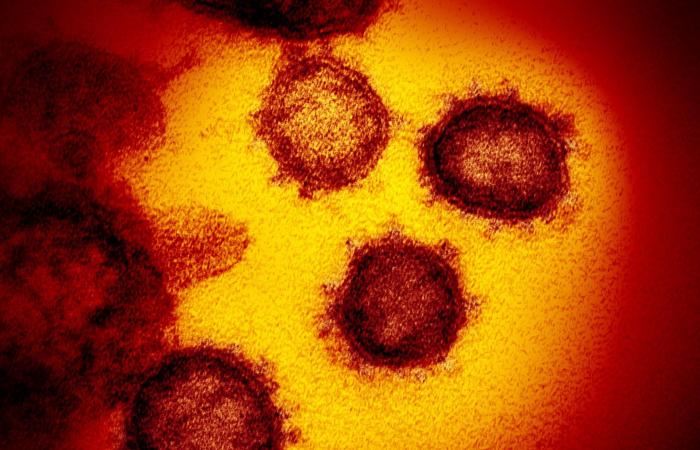 The statement
An Instagram post claims that COVID-19 does not exist because the virus that causes the disease has never been isolated.
The long post, As of November 4th, UK government documentation states that "the Viru $ has never been proven to exist" and that COVID-19 restrictions are part of a "global agenda".
"Victorians, as shitty as things are here with our police force and with the restrictions still in place, remember that this is a global agenda and that we are not alone in our struggle," the post reads.
The post contains an excerpt from a video with former Irish journalist Gemma O'Doherty. In the video, Ms. O'Doherty claims that SARS-CoV-2, the virus that causes the COVID-19 disease, has never been isolated or is causing the disease – and therefore does not exist.
"Ask them (politicians) whether SARS-CoV-2 exists, whether it causes a disease that matches the characteristics of all deaths attributed to COVID-19. Has it been isolated, reproduced, and then proven to cause this disease? The answer will be no, "she says in the clip.
At the time of writing, the Instagram post had been viewed more than 15,500 times and attracted more than 90 comments.
It was published by Australian chiropractor Jennifer Barham-Floreani, whose website states it is "an award-winning naturopath and bestselling author ". She has more than 19,000 Instagram followers.
Ms. Barham-Foreani also posted an eight-minute video with Ms. O'Doherty saying that her allegations are based on a Freedom of Information request from the UK Department of Health, which states that "the department has no information about the isolation of the SARS CoV-2 virus ".
"In other words, it doesn't exist," concludes Ms. O'Doherty.
Ms. O'Doherty has campaigned against restrictions to control the spread of COVID-19 in Ireland. She previously banned her YouTube account for hate speech and permanently banned her Twitter account for violating guidelines to prevent abusive behavior and hateful behavior.
At the time of publication, the post had been viewed more than 12,400 times and attracted more than 80 comments.
The full video has been shared online across multiple platforms including here, here, here and here.
The analysis
Since its identification in December 2019 in Wuhan, China, the SARS-CoV-2 virus has resulted in more than 51 million cases of COVID-19 and over 1.2 million deaths worldwide, according to the World Health Organization's November 12 balance sheet.
Research shows the virus was isolated when the outbreak began and has been isolated multiple times in several countries since then.
An article in the Bulletin of the World Health Organization said researchers first isolated the virus in December 2019, and in February scientists analyzed the genome from 10,022 samples to understand its variability.
An article published in Nature in February described how SARS-CoV-2, a novel coronavirus, was isolated by scientists in Wuhan.
It is said that nearly identical full-length genome sequences for the virus were obtained from five patients at the early stage of an "acute respiratory syndrome epidemic" that began in the Chinese city on December 12.
The U.S. Centers for Disease Control and Prevention (CDC) said SARS-CoV-2 was isolated in his laboratory and has been available to researchers and scientists free of charge since February.
An article in the CDC journal Emerging Infectious Diseases described in detail how US scientists isolated SARS-CoV-2 from a patient in January.
Journal articles also detail how the virus was isolated in Korea and Germany.
In Australia, it was isolated from the first person in the country to be diagnosed with COVID-19, a Wuhan man who was admitted to a Melbourne hospital with a fever, cough and shortness of breath.
The University of Melbourne explained in January how scientists in the city were the first to grow the virus in a laboratory outside of China.
Pathology professor Karen Mossman, part of the team that isolated the virus in Canada, wrote in an article on The Conversation that isolating the virus requires samples from patients to be collected and cultured or grown by infecting living mammalian cells in a laboratory .
A blog post by the University of Queensland virologist and associate professor Ian M. Mackay also described a number of cases the virus had been isolated worldwide and exposed some of the misconceptions that the virus had not been isolated.
The virus had also been successfully isolated from urine and eye secretions.
Auckland University associate professor and microbiologist Siouxsie Wiles said the theory that SARS-CoV-2 was not isolated had spread based on requests for information from the government that were worded about how the isolation process worked and the viruses have been misunderstood.
In the expanded video posted on Instagram, Ms. O'Doherty discusses a request for information asking the UK Health Department for a record showing that SARS-CoV-2 "was isolated from a symptomatic patient with COVID-19 who had the Sample was not first combined with any other source of genetic material ". (Video mark 2 min. 50 sec.)
Dr. Wiles said this was not possible. He described the query as a "problem of definitions".
"Viruses are essentially inanimate objects that require culture to be activated. The way they formulate the requirements, however, is that the sample must be completely unadulterated and not grown in any culture – and you can't, "she said AAP FactCheck in a telephone interview.
"You can't isolate a virus without using a cell culture. Therefore, by its definition, it was not isolated. But it has been isolated and cultivated several times around the world with a cell culture. "
John Taylor, a lecturer in virology at the University of Auckland, said AAP FactCheck that SARS-CoV-2 had been isolated many times using cells to amplify the virus from patient samples and the idea that it could be some type of contamination emanating from the cells was nonsense.
"Viruses are obligate parasites, which means that they only grow in a living host cell. So if you have the limitation that you can't combine the virus with a host cell, ignoring basic biology will give you the answer you want, "he said.
University of Auckland vaccination scientist and associate professor Helen Petousis-Harris said SARS-CoV-2 has been isolated – and it can even be viewed with a powerful microscope.
"We know what it looks like, we have the architecture of it; For example, you can see the spike proteins under a microscope that looks like a halo or corona, which is why it is called a coronavirus.
"You cannot grow a virus without cell culture, it cannot replicate without the cell machinery, but you can restore the virus from its genome."
Nick Wilson, professor of public health at the University of Otago, said AAP FactCheck The Instagram post's argument "approaches the level of the argument about whether the earth is flat or not".
The judgment
AAP FactCheck The claims made in the Instagram post and related videos were false.
The SARS-CoV-2 virus has been isolated several times around the world by harvesting it from sick patients or other sources and growing it in cell cultures. Scientists said the definition of isolation discussed in the video was contrary to the basics of biology, since all viruses needed a host cell to live in.
Not correct – Content that actually has no basis.
* * AAP FactCheck is accredited by the International Fact-Checking Network of the Poynter Institute, which promotes best practice through a strict and transparent code of conduct. https://aap.com.au/
These were the details of the news "Proof" that the virus behind COVID-19 does not exist does not... for this day. We hope that we have succeeded by giving you the full details and information. To follow all our news, you can subscribe to the alerts system or to one of our different systems to provide you with all that is new.

It is also worth noting that the original news has been published and is available at de24.news and the editorial team at AlKhaleej Today has confirmed it and it has been modified, and it may have been completely transferred or quoted from it and you can read and follow this news from its main source.