It was older voters who made Donald Trump president. He can no longer blindly count on them for re-election. Support for Biden is growing in the walled neighborhood of The Villages in Florida, although the over-65s may face threats from their peers.
Ray Kissner (77) sits alone on a bench and can no longer stand it. A band plays live music in front of him on the square and all the terraces around it are packed. "Watch them party, watch them drink, they look like toddlers," Kissner says. But they are all drunk over 65s.
We are in The Villages, a wealthy walled neighborhood for seniors in sunny Florida. About 100 thousand people over 65 live next to each other in cream-colored villas, the lawns are all equally mowed and a palm tree on every street corner. Happy Hour starts at five in the afternoon: then the elderly whiz in their golf carts to one of the three party squares.
Hundreds of people over 65 enjoy full glasses of beer and white wine in the largest party square, Lake Sumpter Square. They hang around each other, almost all without masks, kissing and singing. Nobody has to work here tomorrow, nobody has to be home in time to feed children. For Kissner, it's like watching the last night of the Titanic. The ship is sinking, but nobody wants to know. There is a need to laugh and party, dance and feel. There is no room for corona in paradise.
Yet there is a change in the air. Ray Kissner stepped out of the partying carousel in March, when it became known that the corona virus was spreading through the country. He's not alone. The army of elderly people that the president is turning their backs on is growing rapidly. Earlier this month, they had accumulated so much confidence that they drove through The Villages in a parade of seven hundred golf carts. They honked, put on Biden stickers and buttons. "We showed them who we were," says Kissner, who has voted Republican all his life but is calling it quits because of Trump.
The Democratic Club at The Villages estimates that about 6 percent of Republicans in the senior district have switched camp this year and will vote for Biden; that's about 3,500 voters. While the Republican Party doesn't want to give numbers on defectors, every Trump voter on the street acknowledges that the president can expect fewer votes from The Villages this year than four years ago.
Alarming

That is alarming to Trump. The elderly helped him to a victory last time. An idle time can break him up. And certainly in Florida, a state where a quarter of the electorate consists of people over 65. A state that in terms of population also plays a major role in the outcome of the presidential elections. If Trump loses Florida, he could almost forget about the White House.
Nationally, the numbers don't look good for Trump either. In recent polls by CNN and NBC / Wall Street Journal, Biden gets 21 to 27 percentage points more votes from people over 65 than Trump. And that while Trump was still so popular with the elderly in 2016: he received 7 percentage points more votes from them than his opponent.
Corona is a major reason seniors are dumping Trump. Some have not seen their grandchildren for months and the virus is killing them in far greater numbers than young people. And then there is a president who says not to let the virus dominate your life. Kissner's eyes fill with tears as he recalls on his bench how he lost his father to an Asian flu virus as a 15-year-old boy. Every time I read the newspaper now, I think about all those 15-year-olds who are now losing their father. I really blame Trump. "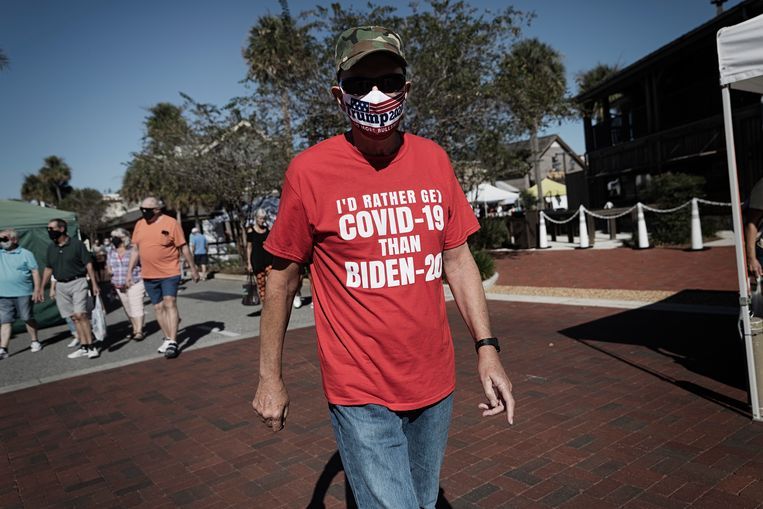 Perhaps the president's constant lies and foul language are an even more important explanation for why elderly people drop out, we hear in The Villages. 'I taught my children that lying is not allowed. I want to prevent my grandchildren (13) from thinking that lying will get you further in life, "Kissner says. His grievances tie in with the analysis of Susan MacManus, a professor of politics at the University of Florida. Women are slightly more likely to leave Trump than men, mainly because of his condescending attitude towards women. They have not forgotten his 'grab them by the pussy' statement.
That opinion can often be heard on the street. Dapper ladies, on heels in the sunshine, puke when they hear Trump's name. Like Brenda Costello (69), who is just going to the weekly Saturday market with her husband. "I think people have finally woken up." A little further on, Jeannie Hamilton (81) is energetically waving Biden signs in front of the polling station. Her dislike of Trump has lasted for four years. My stomach has been the size of a walnut since November 2016 – when Trump was elected. I have a constant feeling of nausea. '
Tij keren

Trump is desperate to turn the tide. In a campaign video he suddenly called the elderly 'my favorite people' at the beginning of this month. He holds rallies to encourage them, like last week at the polo field at The Villages. Ten thousand seniors crowded together like sardines to wave to him. Afterwards, they held their own parade with golf carts – as many as a thousand, it is rumored – to give Trump praise.
The pro-Trumpers are still in the majority in The Villages, although their number is shrinking towards 60 and maybe even 50 percent. A remarkable pair who have also decided to continue to support Trump are grandmother Rita Gallin (74) and her grandson Ben (14 years old, 15 tomorrow!). They walk past Ray Kissner's bench and are eager to make a statement.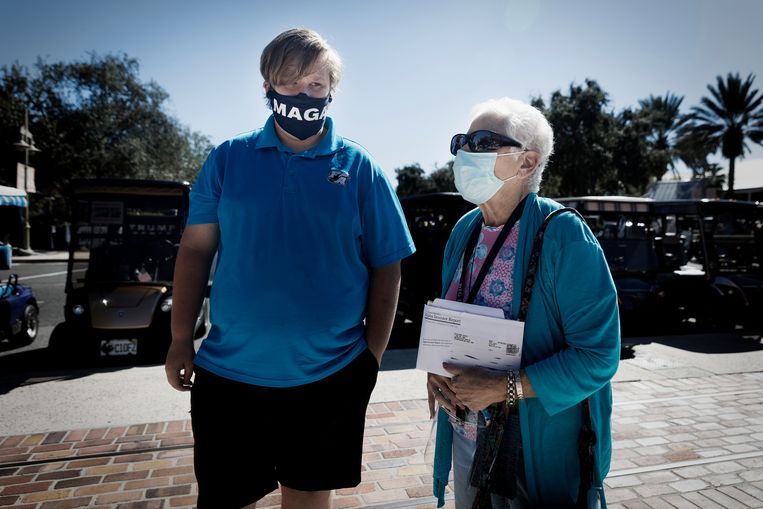 Ben's father died in July of a combination of corona and heart failure. "I can't believe they say this is Trump's fault," says grandson Ben. "How could the president have done something about a virus we don't know about?" According to Ben and his grandmother, the rapidly rising corona numbers in the US are incorrect. "Trump says we have the worst behind us."
They are proud that Trump holds many meetings that are well attended. Grandma: 'He brings out the patriotism in us and keeps the economy running. I think that's important for my grandchildren. '
Hostility

It is precisely this pride that makes Democrats no longer able to stand their Republican neighbors in The Villages. Mutual animosity has grown enormously since Trump's arrival, both sides say. Proper Brenda Costello, who was on her way to the market with her husband, notices that the window of your golf cart will be smashed if you put a Biden sticker on it. Or they scratch the paint off with their key. Others say their home was pelted with eggs.
77-year-old Ray Kissner has even been threatened with death. A man over 65 who saw the 'Trump hypocrite' sticker on his cart pulled up next to him and said, 'I hope you die, and a little soon.' Shortly thereafter, a broad-bodied senior came threateningly towards him and demanded clarification. Kissner: "My pocket had pepper spray and I was already holding my finger on the button." It fizzled out.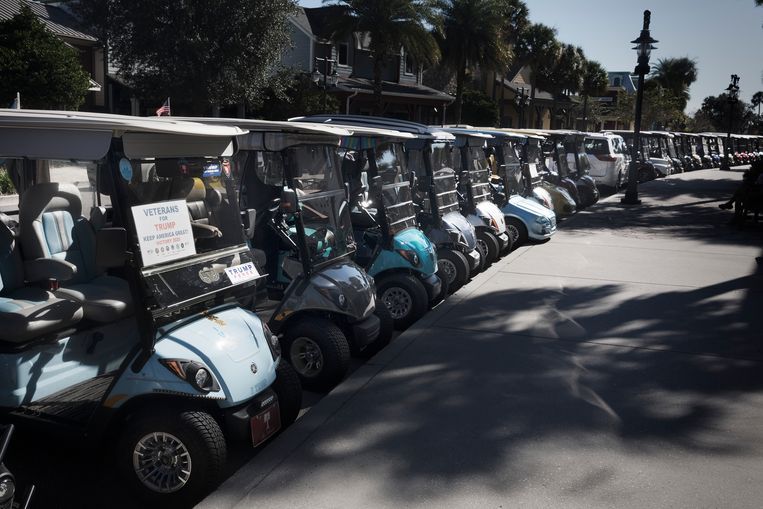 The threats have become so bad that the Club of Democrats in The Villages does not consider it justified to hold golf cart parades any more. On the latest attempt, a group of old ladies were hemmed in by Trump fans. "80-year-old guys then grabbed their crotch and scolded the old ladies," says volunteer Rose Cler (72) in the clubhouse. "Can you imagine how bad it got?" She no longer speaks to her neighbors, with whom she was friends for seven years. If Biden doesn't win, she wants to leave The Villages. "I can't take the tension anymore."
Professor MacManus warns that it will be another exciting race. While most seniors in the country have turned their backs on Trump, margins are still small in Florida. 'I don't know who wins. I know it will take a long time to heal, "Kissner says on his bench by the waterfront with a sad face. The Villages have long been known as Florida's friendliest town. That is no longer the case. ' There is a burst of laughter from the partying to his left.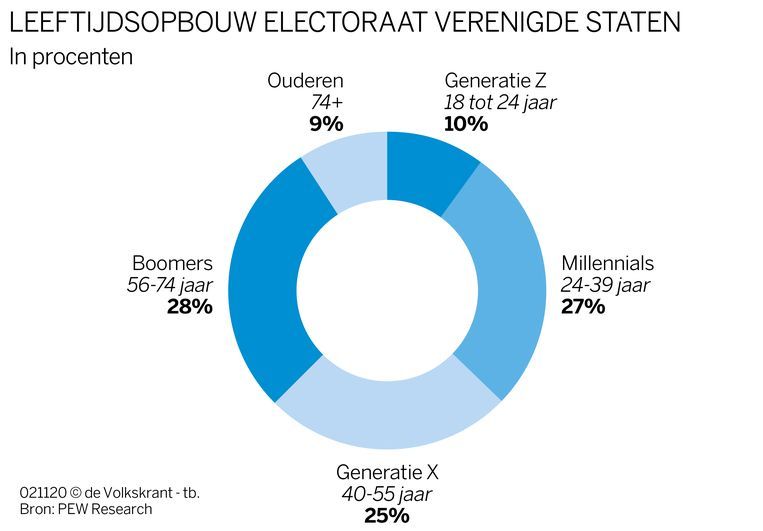 read more

An opinion poller who correctly predicted Trump's 2016 victory sees him win again this time
The US presidential race already seems decidedly in favor of Joe Biden. At least, according to the polls. But there is one poll that sees Donald Trump reelected. Nonsense, says the competition. In 2016, however, he was one of the few who got it right.
Read all about the US elections in our file.
These were the details of the news Florida retirees are turning their backs on Trump – and it... for this day. We hope that we have succeeded by giving you the full details and information. To follow all our news, you can subscribe to the alerts system or to one of our different systems to provide you with all that is new.

It is also worth noting that the original news has been published and is available at news1.news and the editorial team at AlKhaleej Today has confirmed it and it has been modified, and it may have been completely transferred or quoted from it and you can read and follow this news from its main source.