Patricia Sulbarán Lovera
BBC World News in Los Angeles
7 hours ago
There are 32 million people of Latin origin with the right to vote in the next elections in the United States, which is equivalent to the entire population of Peru.
It is a record number and, for the first time in history, Latinos are expected to constitute the country's largest racial or ethnic minority, with a 13.3% share (surpassing African-Americans).
And every four years, expectations turn to how crucial the Latin vote will be in choosing the next president.
Experts agree that it is necessary to pay attention to what happens in states with a large Hispanic population, such as Texas, Arizona and Florida, considered key locations that can tip the balance for either candidate, Donald Trump (Republican) or Joe Biden (democrat).
However, after each election, the analysis of the results tends to be the same: that Latinos "did not" appear at the polls as expected, reinforcing the nickname they won involuntarily: sleeping giant ("sleeping giant").
Also every four years, candidates outline strategies to attract the so-called "Latin vote" using, for example, the Spanish language in their advertisements.
BBC News Mundo, the BBC's Spanish-language service, spoke to experts about the preconceived myths or ideas that surround this constituency and what factors really should be taken into account in the election.
1) Which is uniform and monolithic
Americans not only use the expression "Latin vote" to refer to voters of Latin American or Hispanic origin, they also use "black vote" to speak of African American voters and "white vote" to mention those who identify themselves as such.
In the case of Latinos, experts warn that, behind the generic term "Latin vote", there is a great diversity of people from different origins distributed across the country's vast geography.
"Talking about the 'Latin vote' as one implies that it is a group of people who share the same points of view (but), although there are coincidences, not everyone thinks the same way," explains Mark López, director of Global Migration and Demographic Survey of the Pew Research Center, based in Washington.
Of the total number of Latinos entitled to vote in the country, 59% are Mexican or Mexican-American, 14% are Puerto Rican, 5% are Cuban and 22% are of other Hispanic origins, according to 2016 data from the Pew Institute.
In addition, in the last 20 years, the size of the electorate has more than doubled – and more and more people from different countries of origin have become eligible to vote, adds López.
Although experts ask not to associate the adjective "monolithic" with the way Latinos vote in the United States, they explain that there is a historical reason that led to the use of the term "Latin vote".
"I think it is a concept to aspire to, because it was the mechanism that attracted people of different origins to the political arena in the 1960s, to build this Latin political movement from a collective effort", says Benjamin Francis-Fallon, author from the book The Rise of the Latino Vote ("The rise of the Latin vote", in free translation) and professor of history at Western Carolina University, USA.
The political power of Latinos, explains political scientist Melissa Michelson, was established through alliances between, for example, Mexicans and Puerto Ricans.
"Latinos recognized that it was an organizational strategy. If each small Latin community were understood separately, it would have very little power," she says.
But the unitary approach has often failed to help politicians in an attempt to attract this constituency.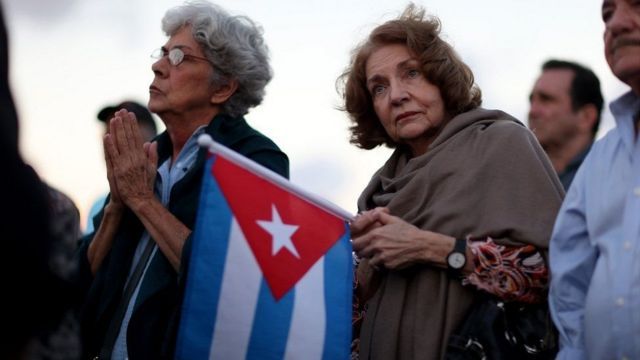 "We see that there is not enough approach, neither significant. The candidate needs to make himself known to the community," says Clarissa Martínez de Castro, deputy vice president of the United States non-partisan organization.
But in looking at the current presidential campaign, Michelson's assessment is that "there is recognition on the part of both parties in relation to the diversity of the Latin electorate" – she cites Trump's strategy to attract Venezuelan votes in Florida as example.
2) Who is vehemently democratic
While it is true that the Democratic Party has traditionally garnered more support from Hispanics compared to Republicans, it has failed to attract that entire constituency.
About 62% of Latin voters identify themselves or lean towards Democrats, while 34% are more in line with Republicans, according to estimates made by the Pew Institute this year.
However, despite promising to build a wall between Mexico and the United States and after calling Mexican immigrants "rapists and murderers", Trump arrived at the White House in 2016 with the support of 28% of the Hispanic electorate.
In previous elections, Republican George W. Bush, for example, won record support from Latinos, accounting for 40% of those votes in 2004.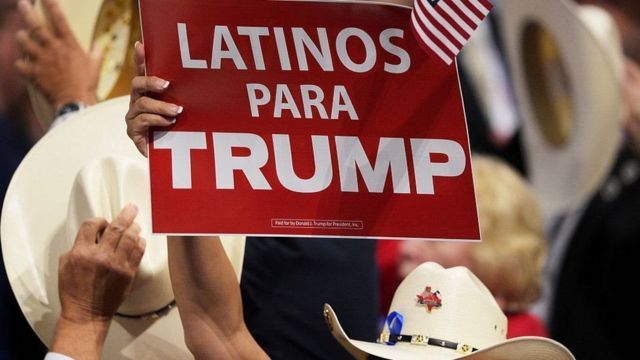 "Some politicians assume that Latinos are Democrats, as if the voter was born with a fixed DNA", warns Clarissa Martínez de Castro.
"The reality is that for a long time, Latinos have changed their voting pattern. They did not necessarily vote for the same party. For example, they could vote for one Democrat for governor and one Republican for senator," he explains.
The Republican Party's approach to the state's minor role in social affairs and belief in conservative and religious values ​​are some of the elements that attract Latin voters, experts suggest.
In contrast, the Democratic Party's approach to the government "guaranteeing opportunities for access to employment and education" generates more affinity among other Hispanic voters, explains Martínez de Castro.
The expert recalls that, in the last decade and due to the "anti-Latin" rhetoric of the Republican Party, the Latin electorate has been increasingly distancing itself, but warns that the Democrats "have not finished capitalizing these voters as part of their base".
Another preconceived idea, adds historian Francis-Fallon, is to consider the Cuban and Cuban-American electorate as "the only one who sympathizes with the Republicans".
Within the scope of this election year, the United States specialized press has relied on polls to highlight in recent months that Joe Biden, the Democratic candidate, is not attracting the Latin electorate in the same way as Hillary Clinton in the previous campaign.
"Or only group [demográfico] where Biden continues to perform slightly less are Latinos: 59% said they would vote for Biden instead of Trump, but Clinton obtained 66% of those votes in 2016, "wrote Domenico Montanaro in June, citing a poll by National Public Radio (NPR).
In total, 25% of Latinos with the right to vote are immigrants and, although it is not a small percentage, this means that the other 75% were born in the United States.
Experts agree that one of the most common preconceived ideas about this constituency is that their only concern or motivation for voting is migration policies.
"Traditionally, issues such as economics, employment and education have been a priority for Hispanic voters. In recent years, we have begun to realize that they prioritize access to health and immigration," says Clarissa Martínez de Castro.
"More than half of Latin voters know someone without documentation (illegal immigrant), so treating immigrants is a personal matter," he adds.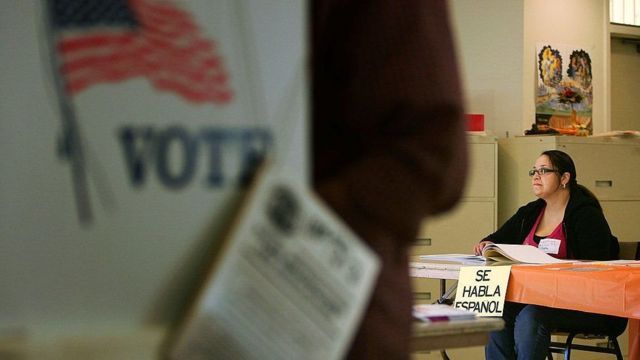 Prior to the pandemic, most registered Latin voters had expressed an interest in raising the minimum wage, creating stricter gun ownership laws and greater government involvement in access to health, according to a survey by the Pew Institute.
Now, during the campaign, political scientist Melissa Michelson points out that topics like economics and coronavirus are probably of great importance to Latinos.
"Not all Latinos or potential voters have the same relationship with or are concerned about immigration policies," he says.
"The challenge for Democrats is not to automatically label Latino voters as Mexicans or immigrants."

What is the term 'sleeping giant' for?
Since 1980, Latinos and Hispanics have voted less than other demographic groups.
For example, in the 2016 election, 48% of Latinos eligible to vote went to the polls, compared to 60% of African American voters and 65% of whites.
"The number of Latinos who qualified to vote and did not vote exceeded the number of those who voted in all presidential elections since 1996," said the Pew Institute.
These results have led Latinos to be seen as "a group that does not vote in proportion to its demographic and political importance," says Mark López.
But this behavior can be analyzed far beyond mere disinterest, experts say.
Some elements that have affected participation are: the young electorate (almost 1 million Americans of Latin origin turns 18 each year); the need for more efforts on the part of States to promote voter registration; and the approach of the candidates.
– Strict voting rules in some states, which require photo identification or other voting requirements;
– Electoral zones distant from homes and difficulty in moving;
– The election be held on a working day (Tuesday), and the inability to miss work to vote;
– Less custom or habit of voting by Hispanics born in the United States who grew up in families whose parents are immigrants and are not able to vote.
"Latinos live in parts of the country that were not considered battlegrounds by parties in the election, such as California, for example, and this can have an impact on the reach of the campaigns," explains López.
However, the country has witnessed in the past 20 years a greater presence of Hispanics in states where they did not traditionally live, some of them considered crucial to winning a presidential election, as is the case in Pennsylvania.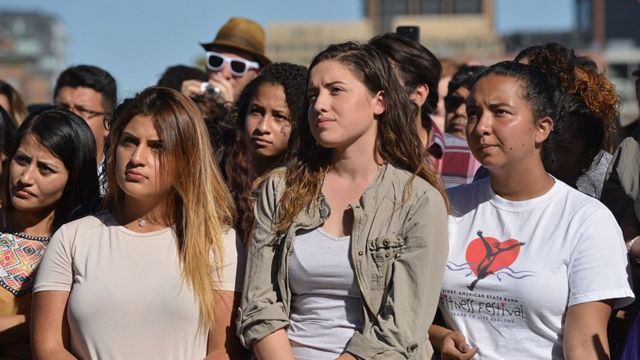 In the previous presidential campaign, says Martínez de Castro, "60% of Latinos with a high probability of participating in the electoral process reported that they were not contacted by the campaigns or by the candidates".
The expert also highlights the registration of new voters as a critical point, pointing out that 8 out of 10 registered Latinos vote in the presidential elections.
"We have a system that doesn't invest much in encouraging people to register to vote," he warns.
Despite this record, experts say Latinos have had an influence on the elections, especially in the results of key states like Texas and Florida.

Have you watched our new videos on YouTube? Subscribe to our channel!
These were the details of the news US elections: 3 myths about the impact of the 'Latin vote' for this day. We hope that we have succeeded by giving you the full details and information. To follow all our news, you can subscribe to the alerts system or to one of our different systems to provide you with all that is new.

It is also worth noting that the original news has been published and is available at time24.news and the editorial team at AlKhaleej Today has confirmed it and it has been modified, and it may have been completely transferred or quoted from it and you can read and follow this news from its main source.