Opens up about the relationship with Trump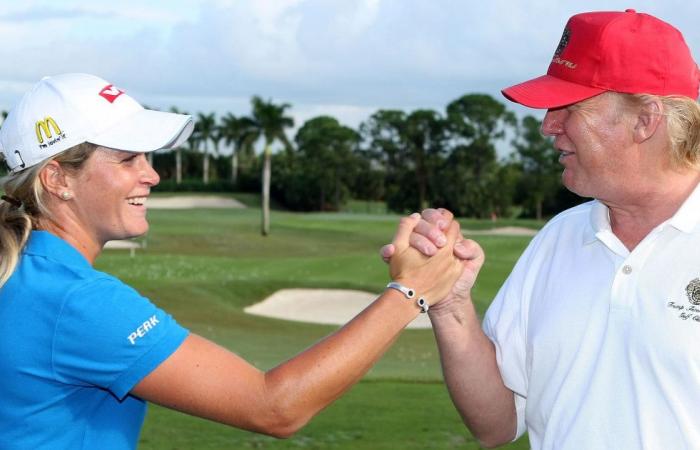 Today, golf set Suzann "Tutta" Pettersen releases her autobiography "Tutta – no courage, no honor."
In the book, her friendship with President Donald Trump is devoted to space. In tonight's "Lindmo" on NRK, Pettersen also eases the veil on his relationship with Trump.
– I want to say that the person you see on TV today is exactly the person I met 15 years ago. There is no difference. He is very similar to himself, she says in the program.
She believes the impression given by the president in the Norwegian media is one-sided, and that he also does a lot of good.
– If you live in the US, and see how society works internally, then there is extremely much that has gotten better with him. In the world there has been an explosion. He has created a bit complicated relationships and said a lot of strange things, says Pettersen.
Tutta believes Trump will make a big drama if he loses next week's election.
– Is he in the category buddy?
– I want to say that I have a relatively good relationship with him. But there is one common denominator, with golf as a starting point.
She elaborates:
– I have played several tournaments with him while he has been president. I played the US Open on his course in Bedminister in 2017. It was a show like no other with snipers lying all over the golf course, in case he should come. It was not said that he should be there. And then he came. But he was not allowed to be in the clubhouse because it was not safe enough. They made a tent next to it. Then I was one of the very few who was asked if I could come up and have a chat with him.
– Digs himself
Also in an interview with VG two years ago, Pettersen told about his relationship with Trump, which stretches back more than ten years.
– I know no one who loves himself more than he does, Pettersen said.
She made no secret of the fact that she values ​​Donald Trump as a friend and a human being, and described the contact between the two as "very personal".
Tutta, on the other hand, leaves Trump little honor as a golfer, and added with a laugh in the interview that he "cheats like hell" and claims that he "has set a new course record or won a club championship here and there".
Without her completely believing him in it.
Golf-gal
In an interview with Aftenposten in 2015, she confirmed that the two have had close contact for a number of years.
– He is a very big golf enthusiast. I met him 10-12 years ago when he hosted an LPGA tournament on one of his courses in Florida. I got to know him very well and have had a good relationship with him for all the years since. We have played a lot of golf together, she said.
Precisely the interest in golf has brought the two close together.
Tutta has described the president as a "golf madman", which is supported by the fact that Trump was on the golf course 94 times in his first year as president.
Strong reactions
When Tutta in 2016 congratulated Trump on the day he was elected president, with the Twitter message "Hats off to this man, you did it, Mr. President. Congratulations, my friend », she felt the rage of the people.
Tutta jubler for Trump: «Hats off for this man, you did it! Mr. president»
"So you support racism, white domination, selfishness and idiocy?", It was said in one of the comments that came to her on Twitter.
– I thought I was going to be beheaded. I was really just going to congratulate a friend on winning the US presidential election. I had sent the same thing to another friend who had gotten a new job or a new position, Tutta told VG.
"Tutta" congratulated his friend Trump on his triumph. Now she gets slaughtered: – It's pretty amazing
Admittedly, not everyone braided her for the Trump congratulations.
"Those who discuss here behave like children. Everyone has the right to have their own opinion. Sporty and tough of you Tutta », called it in a comment.
Tutta eventually removed the tweet after the many negative comments – but published it again a few hours later.
Called her
Many were surprised that as a woman she supported a president who had proved to be misogynistic.
– I have become so well acquainted with Trump that I do not take everything he says literally. Yes, you do not meet a person who loves himself as much as him, but I also met him on another level, before he became president. I know how much he cares. He called me once a month and asked how it was. It was always about golf, Pettersen told VG.
Tutta is said to have emphasized – despite the friendship – that she is not a supporter of Trump's policies or everything he stands for.
Tutta also admitted in the interview that she has been slightly appalled after seeing how Trump fired a "poor" course worker who he thought had not done his job on his golf course.
Has helped her
If Tutta can not stand behind the politician Trump, she admitted in the interview with VG that she has respect for the businessman Trump.
She has repeatedly asked Trump for advice and tips on investments and finances, and she is said to have learned a lot from him there, according to the interview. Tutta said that Trump has been an extremely good help, and that he has given her many good suggestions on what she has wondered about in economics, and when she should make decisions in business.
Over the years, she has also expressed gratitude that Trump for a period sponsored the LPGA Tour, the women's golf circus. It was initially also in the way they got in touch.
– What he has done in the sport of golf has been fantastic, Suzann Pettersen has told NTB in an earlier interview.
Tutta about Trump: – What he has done in the sport of golf has been fantastic
Met the parents
In the interview with NTB in 2015 – while Trump was on his way to becoming the Republican presidential candidate – Tutta also talked about his trust in Trump.
– If he ends up in the White House, at least I'll go there. Then I have a friend high up. I have already started calling him "the president", she said, and followed up:
– He is in many contexts described as a clown. At the same time, I know few people who like themselves as much as he does.
In another interview, with VG, in 2015, Pettersen said:
– He loves to "fire up" where it is possible to fire up. Donald is not afraid to say what he means. Whether it's smart or not, I will not say anything about, but he says what he has on his mind,
That same year, several media outlets reported that then-presidential candidate Trump remained in Scotland to follow Suzann Pettersen at the British Open – on the course he himself owns, Trump Tunberry Resort.
During this tournament, Trump was also pictured in close conversation with Suzann's parents, Mona and Aksel Pettersen, on the field.
VG also told that Tutta during the tournament should have been woken up in the morning by a phone call from Trump.
He would call and wish her good luck with the continuation of the tournament because he would not have time to talk to her after the round.
Trump was also interviewed in passing where he whizzed away in his golf cart:
– I would have loved to see her win, he said at the time to NTB.
Fraction
Even after Trump became president, the two have met on several occasions. One of the times was in 2017 when Suzann played the US Open at Trump's golf course in Bedminster, New Jersey.
After Suzann made a disappointing round of golf, the two were pictured. Trump greeted Suzann with a hug and a kiss on the cheek.
But the relationship has naturally become somewhat more distant since he became president.
When they were in Japan two years ago – Trump as President and Tutta in golf business – Trump told her she had to call him – until he realized he was president, and recovered by saying: "I get my people to get in touch "- it appears in the VG interview from 2018.
The mentioned interview also created trouble for Pettersen, she admitted to Norsk Golf a couple of weeks later, in 2018.
– From now on, I will not say one more word about Trump and me. It just makes noise, she told the magazine.
The background was VG's front page with the title «He cheats like hell». The interview was translated into English, and the statement was intercepted by major American media.
Among them the Los Angeles Times and Fox News.
Pettersen apologized to Trump on Twitter, and thought the tentatively humorous – but correctly rendered – statements had been blown up on the front page and taken out of context.
Pettersen told Norsk Golf that she had been in contact with "those involved" after the cheating statement – but added that President Trump himself was among those who had "cared the least".
– It will be exciting to see if he is serious enough for such a role
– Rawest
Suzann Pettersen is one of the most decorated female golfers in history.
Kjetil André Aamodt has even stated that Pettersen is the greatest athlete Norway has fostered:
– Suzann is probably the roughest athlete Norway has had. I rank her at the very top, because we have not had anyone else who has been around in an individual world sport, he reasoned.
Earlier this year, Pettersen received the honorary award during the Sports Gala.
These were the details of the news Opens up about the relationship with Trump for this day. We hope that we have succeeded by giving you the full details and information. To follow all our news, you can subscribe to the alerts system or to one of our different systems to provide you with all that is new.

It is also worth noting that the original news has been published and is available at time24.news and the editorial team at AlKhaleej Today has confirmed it and it has been modified, and it may have been completely transferred or quoted from it and you can read and follow this news from its main source.