Comirnaty: The report of the European Medicines Agency on the Pfizer...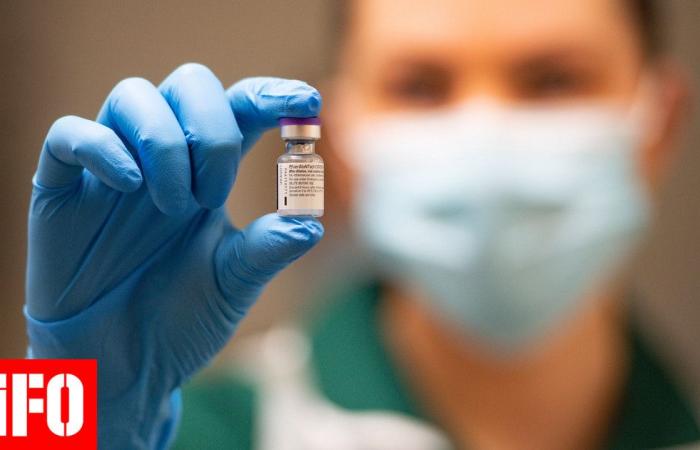 Comirnaty is the vaccine of Pfizer and BioNTech against the coronavirus, which today started its distribution process in all EU member states.
The European Medicines Agency (EMA) has published the evaluation of the Pfizer-Biontech vaccine, providing all the necessary information for its administration, side effects and how it works.
Comirnaty is indicated for active immunization to prevent SARS-CoV-2-induced COVID-19 in people aged 16 and over.
The safety and efficacy of Comirnaty in children and adolescents under 16 years of age have not yet been established as limited data are available.
As for the elderly population, 65 and over, no dose adjustment is required.
The vaccine makes the immune system (the body's natural defense) produce antibodies and blood cells that work against the virus, thus providing protection against COVID-19 disease.
As Comirnaty does not contain the virus for immune production, cannot transmit the virus.
Comirnaty should not be used
• if you are allergic to the active substance or any of the other ingredients of this medicine
Warnings and precautions
Talk to your doctor, pharmacist or nurse before you are given the vaccine if:
• have you ever had a severe allergic reaction or breathing problem after any other vaccine injection or after having been given Comirnaty in the past?
• have you ever fainted after any needle injection?
• you have a serious illness or infection with a high fever. However, you can get your vaccination if you have a mild fever or upper airway infection such as a cold.
• you have a bleeding problem, you have mild bruising or you are using a 27 medicine to prevent blood clots
• you have a weakened immune system due to a disease such as HIV infection or a medicine such as a corticosteroid that affects your immune system
As with any vaccine, the Comirnaty 2-dose vaccination cycle may not fully protect everyone those who receive it and it is not known for how long it offers protection.
Comirnaty is administered intramuscularly after dilution as a 2-dose cycle (0.3 ml each) with an interval of at least 21 days. No data are available on the interchangeability of Comirnaty with other COVID-19 vaccines to complete the vaccination cycle.
Individuals receiving a dose of Comirnaty should receive a second dose of Comirnaty to complete the vaccination cycle.
Method of administration
Comirnaty should be administered intramuscularly. The preferred position is the deltoid muscle of the upper arm.
The vaccine should not be injected intravascularly, subcutaneously or intradermally and should not be mixed in the same syringe as any other vaccine or medicine.
According to the evaluation, no interaction studies with other drugs have been performed and no co-administration of Comirnaty with other vaccines has been studied.
Side effects
The safety of Comirnaty was evaluated in participants aged 16 years and older in 2 clinical trials involving 21,744 participants who had received at least one dose of Comirnaty.
In Study 2, a total of 21,720 participants aged 16 years and older received at least 1 dose of Comirnaty and a total of 21,728 participants aged 16 years and older received placebo (including 138 and 145 adolescents aged 16 and 17 years in the vaccine and placebo groups, respectively).
A total of 20,519 participants aged 16 and over received 2 doses of Comirnaty.
At the time of Study 2 analysis, a total of 19,067 (9,531 in Comirnaty and 9,536 in placebo) participants aged 16 years and older had been assessed for safety for at least 2 months after the second dose of Comirnaty. This included a total of 10,727 (5,350 in Comirnaty and 5,377 in placebo) participants aged 16 to 55 years and a total of 8,340 (4,181 in Comirnaty and 4,159 in placebo) participants aged 56 and over.
The most common unwanted actions in participants aged 16 years and older were injection site pain (> 80%), fatigue (> 60%), headache (> 50%), myalgia and chills (> 30%), arthralgia (> 20%), pyrexia and swelling at the injection site (> 10%) and was usually mild or moderate in intensity and resolved completely within a few days after vaccination.
Slightly lower incidence of reactivity events was associated with older age.
More specifically, like all vaccines, Comirnaty can cause side effects, although not everybody gets them.
Very common side effects:
can affect more than 1 in 10 people
• injection site: pain, swelling
• fatigue
• headache
• muscle pain
• joint pain
• chills, fever
Common side effects: may affect up to 1 in 10 people
• redness at the injection site
• motion sickness
Uncommon side effects: may affect up to 1 in 100 people
Swollen lymph nodes
• feeling unwell
• pain in the extremities
• insomnia
• itching at the injection site
Rare side effects: may affect up to 1 in 1,000 people
• temporary unilateral paralysis of the face
Not known (cannot be estimated based on available data)
• severe allergic reaction
The action of the vaccine
The modified nucleoside messenger RNA in Comirnaty is formulated into lipid nanoparticles, which allow non-proliferating RNA to enter the host cells by guiding the transient expression of SARS-CoV-2 antigen S.
The mRNA encodes the full-length membrane protein S with two point mutations in the
central propeller.
Mutation of these two amino acids into proline locks S in the fusion configuration, which is an antigenically preferred configuration. The vaccine elicits neutralizing antibody responses and cellular immunity to spike antigen (S), which may contribute to protection against COVID-19 disease.
Effectiveness
Study 2 is a multicenter, multinational, Phase 1/2/3 randomized, placebo-controlled, dose-blind, test-dose, vaccine candidate selection, and efficacy study in participants 12 years of age and older.
At randomization, stratification was performed by age: 12 to 15 years, 16 to 55 years, or 56 years and over, with at least 40% of the participants in the mattress ≥ 56 years.
The study excluded participants who were immunosuppressed and those who had a previous clinical or microbiological diagnosis of COVID-19.
Participants with pre-existing stable disease, defined as a disease that did not require a significant change in treatment or hospitalization for aggravated disease during the 6 weeks prior to inclusion, were included, as were participants with known persistent human immunodeficiency virus (HIV) infection. , the hepatitis C virus (HCV) or the hepatitis B virus (HBV).
At the time of Study 2 analysis, the information presented was based on participants aged 16 years and older.
Lifetime
Unopened vial: 6 months at -90 ° C to -60 ° C.
Once removed from the freezer, the unopened vaccine can be stored for up to 5 days at 2 ° C to 8 ° C, and up to 2 hours at temperatures up to 30 ° C, before use.
Once thawed, the vaccine should not be re-frozen. Closed-vial vials containing 195 vials that can be removed from freezer storage (<-60 ° C) can be stored at room temperature (<25 ° C) for up to 5 minutes for transport between extremely low temperature environments.
Once the vial trays are returned to freezer storage after exposure to room temperature, they must be kept in the freezer for at least 2 hours before being removed again.
Diluted medicinal product
Chemical and physical in-use stability has been demonstrated for 6 hours at 2 ° C to 30 ° C after dilution in 9 mg / ml (0.9%) sodium chloride solution for injection.
From a microbiological point of view, the product should be used immediately. If not used immediately, in-use storage times and conditions are the responsibility of the user.
The full evaluation of the Comirnaty vaccine HERE
Follow LiFO.gr on Google News and be the first to know all the news
See all the latest News from Greece and the World, at LiFO.gr
These were the details of the news Comirnaty: The report of the European Medicines Agency on the Pfizer... for this day. We hope that we have succeeded by giving you the full details and information. To follow all our news, you can subscribe to the alerts system or to one of our different systems to provide you with all that is new.

It is also worth noting that the original news has been published and is available at en24 news and the editorial team at AlKhaleej Today has confirmed it and it has been modified, and it may have been completely transferred or quoted from it and you can read and follow this news from its main source.