In our Immortals: Fenyx Rising complete solution you will find help for all quests, tips & tricks for the vaults of Tartarus, the challenges and the locations of all treasure chests, armor and ambrosia. Our guide won't leave you in the lurch with any puzzle.
Immortals: Fenyx Rising Walkthrough: General Tips, Tricks, and Strategies
You will certainly try your luck on your own first – and that is a good thing. However, if you have problems with the flow of the game because you do not understand the system straight away or you have to get used to some procedures, then heed our tips for getting started.
How should I design my character?
It doesn't matter how you create your main character in the character editor. Man or woman, with red or brown hair, green or brown skin – it doesn't matter, your name is always Fenyx and the skills that you can learn also remain the same. So it's a matter of taste.
You also don't commit yourself permanently. You can change gender and external characteristics at any time as soon as you have arrived in the Hall of the Gods. To get started, just choose a style that suits you at first glance
Which level of difficulty should I choose?
The level of difficulty can be adjusted to your level both at the start of the game and during the ongoing adventure. However, we advise against anything that is below the "normal" level of difficulty, otherwise the tension will evaporate. The level of difficulty determines the general strength of the monsters and the time limits for certain skill tasks. In contrast, he does not change the riddles and puzzles.
Most monsters scale their toughness with your attack value. The better you can deal, the more monsters with strong defenses will cross your path. Nevertheless, you can gain a strong advantage in the course of the adventure, as Fenyx fighting techniques become more and more sophisticated and their bonus points for combo chains become more powerful. Should you ever get bored fighting, then increasing the difficulty is obvious. Please note, however, that your life force bar hardly gets any automatic healing bonuses at a higher level of difficulty than "normal". On normal, at least the last bar that was opened fills up as soon as you stop fighting.
Which divine powers should I learn first?
The game gives you free rein in many ways when it comes to upgrading weapons and skills. So, in theory, you can only learn one divine ability and develop its subtleties before tackling the next divine ability. We strongly advise against this, however, as you need certain skills for solving puzzles in mini dungeons (they are called Tartaros vaults).
We strongly recommend learning every single basic skill of the divine powers first before continuing to skill any of these powers.
The best order is as follows:
1) Strength of Heracles
2) Apollo's arrows
3) Zorn des Ares
4) Phosphorangriff
5) The rest in any order
These first four divine powers are most likely needed for solving puzzles. If you should enter a vault in which a power is required that you do not yet have, you will be warned. The game just doesn't tell you what strength you lack. Therefore, it is important to learn all the basic skills as quickly as possible.
However, there is a phosphorus attack an exception. The power itself is more useful for combat, but it can be expanded in two steps. With the Phosphorklon you create a statue of Fenyx, which serves as a projectile, but also as a weight for a step switch. This saves you a lot of effort with certain puzzles in which you would otherwise have to laboriously drag stones or wooden boxes through the area. Your statue is very light. So you can only weigh down a step switch on which a spring is recorded. In the case of an anvil step switch, it meets at least a quarter of the requirements.
Which attack methods are most effective?
Fenyx has three basic weapons: a sword, an ax and a bow. You can find them very early in the game and soon learn to use them. There are also two additional weapons, namely a set of spears that stick out of the ground when you use the divine skill Wrath of Ares, and a hammer when you use the divine power "Hammer of Hephaestus".
Your basic tactic should always consist of quickly removing small and weak opponents from a combat group so that you can take care of the big ones. Since big and powerful opponents deal hard, button mashing is pointless. Instead, you should watch them closely and respond to their attacks in order to lie in wait for counterattacks. More about this in the "Parry and Dodge" category.
Take the time to find weak spots in big opponents and to drain them of their stamina. Without perseverance, they are unable to fight for a short time. We'll explain how this works in a moment.
The sword is your basic weapon. It deals a lot of base damage on the life track (the red bar above an opponent's head), but has little effect on their stamina (the blue bar above the opponent). With the sword you can land many quick attacks that turn into long combo chains. It is particularly useful for land opponents who are roughly the same size (or only slightly larger) than Fenyx.
The axe is a powerful but slow weapon. A single swing of the ax does more damage than the sword, but it takes a lot more time to swing the ax, so the total damage is less. Nevertheless, the ax is indispensable, because every hit with it costs your opponent a lot of stamina. As soon as an opponent runs out of stamina, they will be incapacitated for a short time (it literally sees stars). This gives you the opportunity to land many sword strokes in a row. In addition, the ax has a greater reach. This makes them the ideal tool in the fight against flying opponents (such as harpies), or monsters that you want to hit in the head (such as cyclops).
bow and arrow do not do much damage in their basic form and are initially more important for solving puzzles. However, a well-placed arrow can cause flying enemies to come closer. In addition, a head meeting can cause some damage. Especially when you learn to use exploding arrows later in the game. So with Cyclops you keep a proper distance when it gets tight or there are no more stones around that you could throw at the colossus' head.
The hammer of Hephaestus is a crude weapon for area attacks. It's even slower than the ax, but useful as a combo finisher and as a clean-up tool when there are lots of little enemies around you. Its damage value is less valuable than its effect on the stamina of your opponents. He usually knocks little soldiers off their socks. But watch out, every effort also costs you a lot of stamina.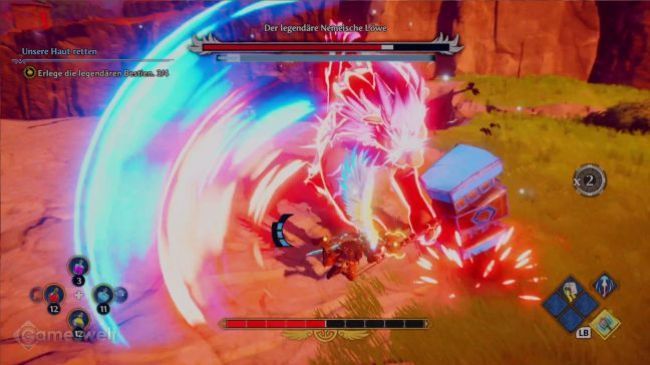 Ground spears, which you summon through the divine power "Wrath of Ares", are particularly suitable in attack phases when you want to get a medium-sized opponent off your feet. Similar to the hammer of Hephaestus, they also protect you from opponents with weak soldiers. The spears are especially useful when you upgrade the ability, which means multiple hits are in prospect. The power is also valuable in vaults, because it helps Fenyx to make very high jumps from a standing position. One operation costs you four units of stamina, so use it sparingly.
Parry and dodge
In order to take as little damage as possible in combat, you should adopt two techniques. If you press both upper shoulder buttons (R1 + L1 or RB + LB) at the same time, so parried Fenyx attacks that come from enemies at the same time. So she fends off and thus escapes the damage that could result. But that only works with normal attacks. If an opponent uses a critical attack – easily recognizable by the red glow of the opponent (or just the corresponding part of the body), then the parry is too weak to compensate for the damage. In that case, you should do without it and rather avoid it.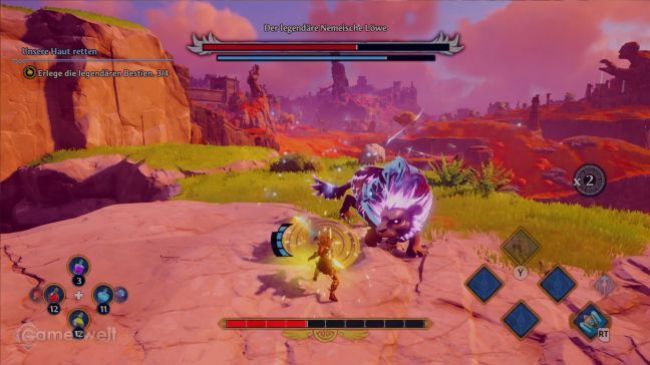 Depending on the system, the command to evade is on the square button (PlayStation), X button (Xbox, PC) or the Y button (Nintendo Switch). You can use this movement at any time to move quickly on the battlefield. Be careful in which direction you steer on the analog stick so that you don't accidentally run into an opponent's weapon. With the right timing you can solve one short slow motion sequence out. And always when you just barely escaped an attack. So if you evade exactly when the attack of an enemy threatens to hit you, the so-called "perfect evasion" is the issue. Use the time bonus that slow motion gives you as often as possible, because this gives you enough rest for a few sedentary attacks. This is exactly why it is better to keep calm in a fight and not just pound buttons.
These were the details of the news Immortals: Fenyx Rising: Walkthrough: Guide for Quests, Tartaros Vault, Treasure Chests... for this day. We hope that we have succeeded by giving you the full details and information. To follow all our news, you can subscribe to the alerts system or to one of our different systems to provide you with all that is new.

It is also worth noting that the original news has been published and is available at de24.news and the editorial team at AlKhaleej Today has confirmed it and it has been modified, and it may have been completely transferred or quoted from it and you can read and follow this news from its main source.