If you forgot what happened .. The Black Book of Safaa...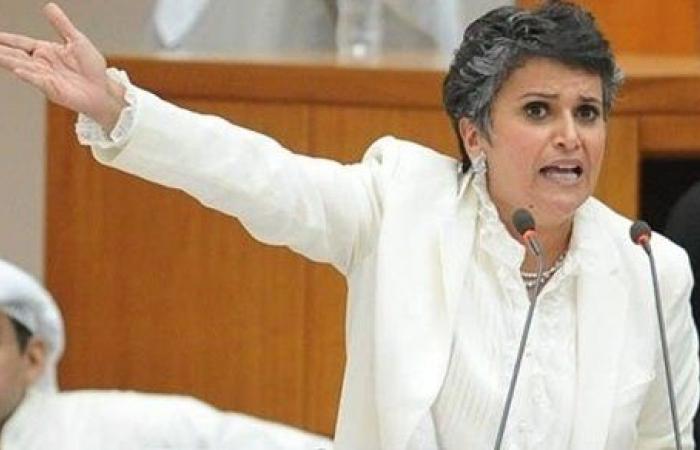 She appeared as a strong-tongue woman spewing out her toxins in public, including racism, igniting sedition and inciting against the brothers, a legacy of annoying screaming and wailing, and nothing but her association with the word "hate", this is a summary of what Safaa Al-Hashem, the Kuwaiti MP who never represented the people of Kuwait, left behind. Its end was, as expected, for others like it: the fall and defeat.
The joys and Zgharid spread across the web, especially Twitter, after the initial indications of the fall of Safaa Al-Hashem in the Kuwaiti National Assembly elections, a resounding fall, and a crushing defeat, for the people of Kuwait to crush all the praise they received for rejecting this ugly model.
The Kuwaiti newspaper "Al-Qabas" reported that the preliminary indications for the 2020 Kuwaiti National Assembly elections showed that Safaa Al-Hashem was defeated and ranked 30th among the candidates of the third electoral district, and media outlets said that she received less than 500 votes. It is noteworthy that the Kuwaiti National Assembly election system stipulates that the country will be divided into 5 electoral districts, each of which represents 10 representatives, to form the Majlis consisting of 50 representatives.
But let us remember the past of Safaa Al-Hashem, who is worthy of infanticide. Racism incites hatred .. Ironically, Safaa Al-Hashem herself is an expatriate.
As for her fame in Egypt, it started because of her attack on the Egyptians and the Minister of Immigration, Nabila Makram, saying her famous sentence "If you forgot what happened, bring the notebooks penned", but this does not prevent her from listening to her advice and searching the books.
What do the notebooks say?
The notebooks say that Safaa Al-Hashem began her journey from Palestine to Morocco and the Jewish Quarter and then to Saudi Arabia and then Kuwait, where her father, Palestinian of origin, worked as a Saudi customs employee in the Olaya governorate, and moved to Kuwait where Safaa was born, and she acquired Kuwaiti citizenship before he died when she was not yet a year old. the first.
The notebooks also revealed the lies of Safaa Al-Hashem's claim that she obtained a doctorate from Harvard University in the US, but her papers at the Kuwaiti National Assembly say that she obtained a Bachelor of Arts in English Language from Kuwait University, and a "Diploma" in Executive Management from "Harvard".
Safaa Al-Hashem is one of the loyal servants of the Turkish President Recep Tayyip Erdogan's project. Al-Dafarat also says that after Safa al-Hashem established the Advantage Company for Administrative and Economic Consulting, it had strong and expanded relations with Turkey and Erdogan. For example, Safaa Al-Hashem appeared next to Erdogan and celebrated her gift of a "hijab".
During the crisis of the Arab Quartet boycotting Egypt, the Emirates, Saudi Arabia and Bahrain to the State of Qatar due to its role and the role of its Emir Tamim bin Hamad in supporting and financing terrorism, Safaa Al-Hashem took the banner of defending Qatar, forgetting Qatar's efforts to dispel the efforts of the late Emir Sheikh Sabah, and its implicit intention to dismantle the GCC system Cooperat.
Before Safaa Al-Hashem began her political career as "bright black", she was just a Kuwaiti businesswoman, before she thought "for some reason" to run for the National Assembly, and as soon as she obtained membership in Parliament, she turned into a "winged dragon" who breathed his fire towards the expatriates with strange, odd, and immoral statements. Reasonable and humane, so it has become repetitive and boring to come out daily with her statements, which are soon repudiated by Kuwaitis, whether citizens, media professionals, or even representatives.
Safaa Al-Hashem's strategy in the onslaught against expatriates, especially Egyptians, was aimed at gaining popularity and making the expatriates a ready-made hanger for the crises of Kuwait, whose leadership has always emphasized the importance of expatriates, especially Egyptians, in its progress and prosperity, and that they are people who provide work and production for which they are paid. Their salaries, and not beggars or plunderers.
Last June, Safaa Al-Hashem called for the deportation of all "Egyptian" arrivals, saying that they "overcrowded" the population, describing them as "dependents" on the Kuwaiti people.
In October of the same year, I submitted a bill requiring the deportation of expatriates and their families in the event of "expired residencies, and those who work for other than their sponsors, and those whose profession in residency does not correspond to reality, and who works directly or indirectly in the field of commerce and for his own account at the same time with labor Bulk and redundant companies with inspections of business licenses and company licenses to identify shell companies. "
The regulations also included construction and reconstruction workers who are over forty years old or suffer from any disability or diseases, with the project contractor being obligated to remove workers from the country in the event that the project ends, teachers, teachers, workers and workers in private schools who do not have residency on the owner of the educational facility and deport the rest of its members and prevent them From recruiting again, deporting those who were previously subject to judicial or legal rulings, and if he went ahead or executed their judgment or was pardoned, and the expatriate was deported to his country when 3 traffic offenses were committed and his violations reached the legal limit, and every expatriate whose papers or documents have expired and he did not renew them shall be applied against him. Deportation and a fine of 500 dinars and a fine for a Kuwaiti who conceals a violating expatriate or his employer without contracting all the travel costs of an expatriate.
And in March 2020, Safaa Al-Hashem criticized the Kuwaiti Ministry of Health's request for a medical certificate from arrivals confirming the absence of Corona from laboratories accredited by the Kuwaiti embassy in Egypt.
She said that the Ministry of Health had previously sent a medical team to examine Kuwaitis coming from Iran, asking: Why is this order not applied in Egypt, especially since there are those who come with a medical certificate confirming that they are free of the Corona virus?
Last October, a number of Kuwaiti National Assembly deputies demanded that all expatriate workers be immediately dispensed with "catering", and that they be replaced by retired Kuwaitis, children of Kuwaiti women, or those with undetermined nationality. The calls come, especially in light of repeated smuggling operations or the sale of supplies on the black market in the areas of Jleeb Al-Shuyoukh and Khaitan, according to the Kuwaiti newspaper Al-Rai.
While the deputies called for combating corruption and preventing supply smuggling in general, MP Safaa Al-Hashem believed that the solution to smuggling supplies lies in dispensing with "Egyptian workers" specifically in managing the supply and seeking assistance from Kuwaitis and retirees.
That was the tip of the iceberg, and simple examples from a black book that Safaa Al-Hashem had planned, and to be an example and a testimony of its proofs that racism and hatred will eventually disappear, and lying does not turn into reality with some believing it, and that what is beneficial to people remains on the earth, but the butter goes dry.
These were the details of the news If you forgot what happened .. The Black Book of Safaa... for this day. We hope that we have succeeded by giving you the full details and information. To follow all our news, you can subscribe to the alerts system or to one of our different systems to provide you with all that is new.

It is also worth noting that the original news has been published and is available at eg24.news and the editorial team at AlKhaleej Today has confirmed it and it has been modified, and it may have been completely transferred or quoted from it and you can read and follow this news from its main source.