The Mandalorian kicks off a new season with a classic tale of enemies who reluctantly ally themselves to defeat a major threat.
Note! This is a recap, there will be revelations about the episode.
Was this a very enjoyable episode? The Mandalorian is true to the classic western in its very action-packed start to the season, here there is (a welcome) cliché bombardment and plenty of references for anyone who loves the genre.
New reunion with Luke and Anakin's home planet
AdvertisementSign up for Disney + here

It fits well with a classic story about the importance of collaboration. Because it is less than a week until one of the most polarized US elections ever and the world is in the middle of a pandemic we are still struggling to create a common front against. Hence the timing could hardly have been better, here young people get a fast-paced lesson about the necessity of realizing that the world is more nuanced than we might think.
It is a bit unclear how long it has been since the events of last season's terrific end of the season. Mando and his infinitely sweet sidekick are looking for a Mandalorian who might give them a hint of where Baby Yoda's own are.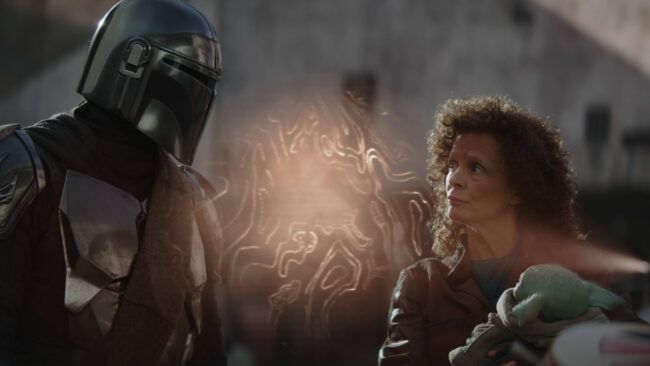 Their search leads them to the well-known Tatooine and the mining community Mos Pelgo, where he meets at a marshal in Mandalorian armor. He has the world's most famous walk, at least for everyone who has joined him Deadwood and Justified.
For whom is this? Marshall takes off his helmet and reveals the face of Timothy Olyphant, here in the role of Cobb Vanth. With that, the serial savior has gotten a good (over) dose of Olyphant this autumn, because he also appears as a marshal in the latest season of Fargo. But can we complain? Of course not, we never get enough of Olyphant.
So who is this Cobb Vanth? A google search (or an overly enthusiastic Star Wars fan) can tell you that Vanth has all appeared in Star Wars history before in books / magazines, here a fairly similar story about Vanth is retold. He saved the city thanks to the Mandalorian armor and does not intend to give it up immediately.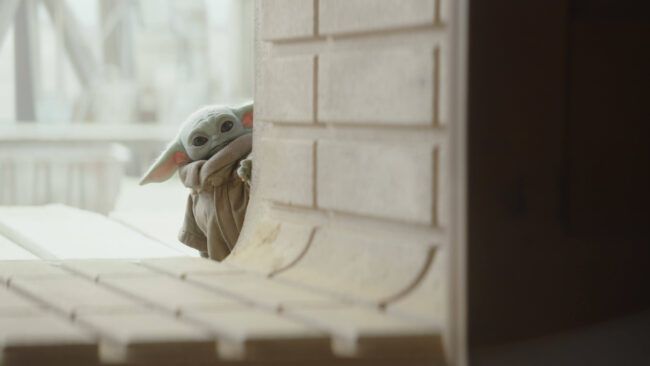 Which quickly becomes a problem as Mando is crystal clear that such armor is not for everyone. The savior of the city or not. It will be stand-off and that Justified-fanboy I must say I almost cheered more on Vanth than our hero. Before we get any outcome from that duel, they are interrupted by a sand monster (Krayt dragon) that made me look forward to the upcoming Dune movie and series.
From there, the story goes its own way. Mando and Vanth must put aside their disagreements and eventually the city's inhabitants and the dreaded nomads Tusken Raiders (the sand people) must also put aside their disagreements.
The entrance of the nuances
It is a real joy that the season starts with a story about the importance of forming a common front. Here, Mando takes on the role of a diplomat who teaches people deep down in their own trenches that the world is more nuanced. Most of us consider ourselves heroes in our own history, but it is an umbilical cord approach that rarely helps to resolve conflicts.
The scene around the fire, where the slanted Vanth refuses to drink from the cup he is given and show respect for other people's culture, is like watching someone from FRP and MDG try to go camping together. Fortunately, the conflicts here are resolved by Mando pointing out what the two parties have to gain from a collaboration.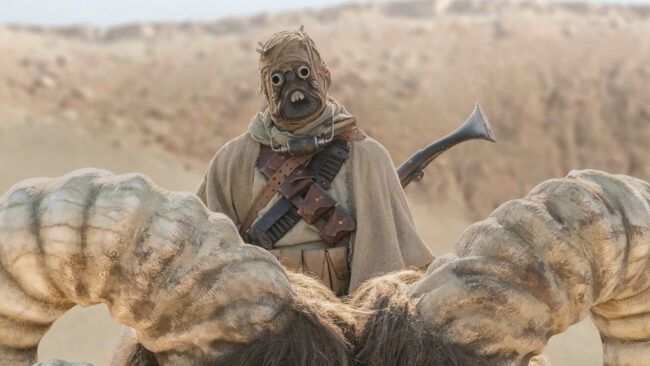 What the series here does is give us upbringing. We live in a very polarized world and probably all need a Mando in our lives.
I wonder if Jon Favreau has deliberately prioritized such a story. The creator of the series has now found time to take over the register. His choice to stick to a classic story, with a lot of fan service and a well-known actor like Olyphant in the guest role, can probably be considered a little over-cautious.
In his defense, that's exactly what we probably have the best of in the time we live in. Because The Mandalorian is a safe haven for Star Wars fans who have become increasingly infected by negativity and an inner polarizing battle after the last two trilogies. Am I alone in experiencing that the fan base in a way reflects the world we live in in that area?
This is an adventure that is easy to like and seeks unity more than quarrels and provocations. Something I love from here to eternity far, far out in the galaxy, because if there's something I'm sorry about, it's the marinade of complaining and negativity that ravages a browser near you. If I project a lot onto the episode? Absolutely. Which makes me love it a little extra, because this is good medicine. Something I am probably far from alone in feeling. The series is the breathing space we need, so I hope it does not mess it up after the good first season.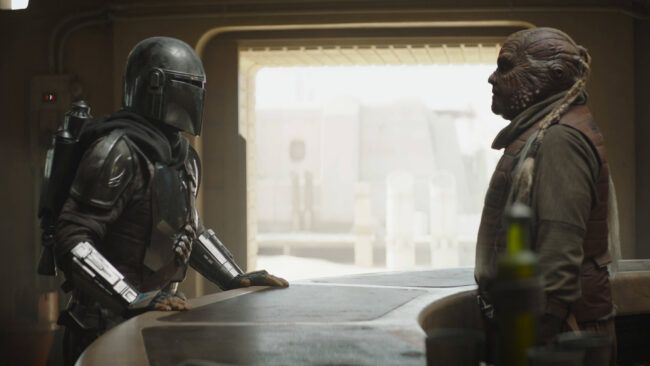 A series of nostalgia and fun simple stories filled with references I think suits fans well right now. Let us agree to gather around the passion in the wait until the next episode, because the said negativity is not healthy for either soul, mind or body. Star Wars in particular has an unhealthy prehistory with, among others, Jar-Jar actor Ahmed Best who considered suicide due to the traumas that followed fan hatred, in recent times this has been repeated with banal threats against, among others, Daisy Ridley. The Star Wars fan base does its best to get rid of and everyone should be careful not to get carried away by a lightning mob. Rather find your inner Mando and chill, or at least catch it with a twinkle in your eye.
For the fight against the virus or the upcoming US election can another series like The Mandalorian little to do, although there is hope that the allegory will reach someone. It's probably going to hell, but let's now hope that positive forces and unity trump there and can crush opposition from the "belly of the beast". It's good that an adventure far, far away, at least tries to convey that it's probably best if we put aside our disagreements and concentrate on doing something with our own sand monsters.
That message is important to convey to the new younger generation of Star Wars fans. For us seniors, it is a good reminder.
What happens in the future? I'm excited about that. Will the series continue to be a safe haven, or will it dare to take us to new places that expand our understanding of this adventurous universe? This episode prepared us to see things from a slightly new angle, something I hope we get more of throughout the season.
I'm really looking forward to the sequel (and hope the world still stands when we return in a week).
Or else:
The Star Wars universe is one of many ignorant. A recurring question is how so few can know about the Jedi so soon after the resistance struggle. Large distances, poor communication and a non-existent news medium may explain this. Xenophobia, rumors, ignorance and prejudice dominate. Think about it. How much do you know about what's going on in Sweden (or Japan for that matter)? If we were to relate to other planets as well, I would think misinformation, "fake news" and myths would dominate far more. Or?
Yes, it was probably Boba Fett who showed up at the very end. That Mando survived being eaten by a creature that has eaten a creature that ate Boba was perhaps a clue. The actor who appeared was Temuera Morrison, who in Episode II played Boba Fett's father Jango Fett.
The R5 robot that appeared in Mos Eisley I think is the same as Luke Skywalker tried to buy in Episode IV (before it short-circuited and Luke rather went for R2-D2).
Did you also get goosebumps when Mando and Varth both flew in attack? I felt like a young boy again.
These were the details of the news Stronger together! Recap of The Mandalorian S02E01 for this day. We hope that we have succeeded by giving you the full details and information. To follow all our news, you can subscribe to the alerts system or to one of our different systems to provide you with all that is new.

It is also worth noting that the original news has been published and is available at time24.news and the editorial team at AlKhaleej Today has confirmed it and it has been modified, and it may have been completely transferred or quoted from it and you can read and follow this news from its main source.