These spiders have no ears. But they can hear you,...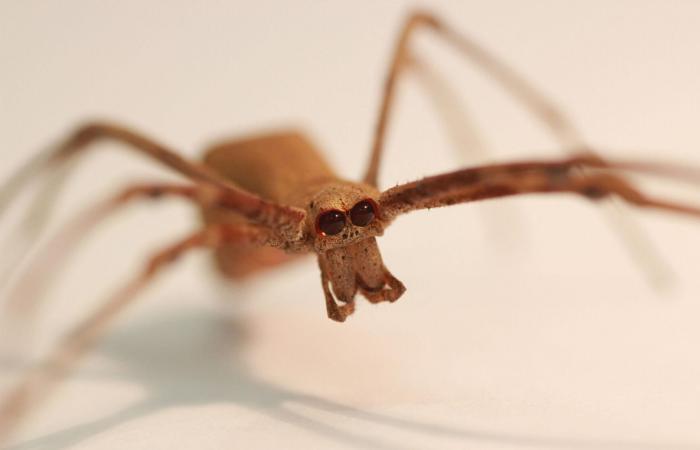 October 29, 2020 1:30 p.m.
By Francesca Giuliani-Hoffman, CNN
Posted: October 29, 2020 1:30 p.m.
Updated: October 29, 2020, 6:05 p.m.
The scary season has arrived – so let's talk about spiders.
Ogre-faced spiders are believed to have the largest eyes of any known species of spider, and they are known for their ability to see 2,000 times better than humans in the dark. However, this impressive vision is just one of the sensory tools these arachnids can use to forage, a new study found.
These spiders can hear too. According to the study, published Thursday in the journal Current Biology, ogre-faced spiders can hear both low-frequency and high-frequency sounds.
Using receptors on their legs, these spiders can detect sounds from a distance of at least 6.5 feet from the source and are sensitive to frequencies up to 10 kilohertz, according to the research team.
Through laboratory tests and on-site observations, the scientists showed that hearing stimuli in the same low-frequency range as the wing beats of moths, mosquitoes and flies caused the spiders to "beat backwards", one of their typical hunting movements.
This showed, according to the researchers, that the spiders use acoustic signals to detect and catch flying prey.
"These spiders are a goldmine of information that has not been used in a long time," said study co-author Jay Stafstrom, a postdoctoral fellow in neurobiology and behavior at Cornell University.
"The visual skills they have are not on the map, and now that they can hear well, I think there is a lot more to understand in the future."
Like 'Jekyll and Hyde'
Ogre-faced spiders are tropical animals found all over the world, including the United States, where they are found in southern states such as Florida.
However, it is unlikely that you have noticed them in your garden as they spend the hours of the day disguising themselves as plant fronds and only become active at night.
"The metaphor is Jekyll and Hyde," lead study author Ronald Hoy, professor of neurobiology and behavior at Cornell University, told CNN.
"During the day this creature acts dead. At night this creature kills, hunts, hunts. His personality is determined by the sun or the moon. "
Dramatic hunters
Unlike other spiders that build a web that traps their food, ogre-faced spiders are web casters and hunt more actively and dramatically.
They build an A-shaped frame net that they dangle upside down at night and use a net that they hold with their legs to catch prey when it is within reach.
Ogre-faced spiders beat forward to catch prey below them and backwards to catch prey that flies overhead, Stafstrom said.
The two hunting methods rely on different senses, he explained.
"It seems like there is this beautiful division of sensory systems where they rely on seeing to pick up things from the ground, and their ability to hear enables them to pick up things from the air."
Spiders don't have ears, but ogre-faced spiders can hear sounds through receptors on their legs, including leg hair, according to the researchers.
Sounds and threat detection
Ogre-faced spiders reacted differently to sounds depending on their frequency, the study showed.
They would "flip backwards" to search for food in response to low-frequency sounds in the same area as the wingbeats of animals they chase after. But when they heard high-pitched noises corresponding to the range of bird calls, the spiders did not move.
This doesn't mean the spiders couldn't hear high-frequency sounds – laboratory experiments the scientists conducted to monitor the spiders' brain activity in response to sounds confirmed that they could actually hear them.
Rather, the scientists suspect that the spiders could ignore these noises for self-defense, which they want to investigate further in the future.
"We know that birds eat a lot of spiders. I've seen many birds in the palm trees that these spiders are in and they happen to chirp in those high frequency ranges that these spiders can detect. So it could be an early warning that something is coming to eat me soon, "said Stafstrom.
Testing the hearing of spiders
Monitoring the spiders' response to auditory stimuli through nanotechnology electrodes that the researchers have inserted into the brain and legs is no easy task.
Inserting electrodes into a spider's brain without killing it requires highly skilled preparatory work and "a watchmaker's hand," Hoy said.
He owed this particular talent to study co-author Gil Menda, a postdoctoral fellow at Cornell's Department of Neurobiology and Behavior.
Roy explained that developing a method to record brain activity in spiders over time enabled the Cornell research team to convincingly demonstrate that spiders are not only sensitive to vibration, but also to noise from a distant source.
Looking for spiders in their natural habitat
The researchers also conducted on-site observations and studied the behavior of the spiders in their natural habitat.
Hanging out with nocturnal spiders in their habitat isn't the most pleasant experience, but Stafstrom does it with passion.
For this study, he spent a week in the woods in Gainesville, Florida, equipped with a spotlight, a bluetooth speaker to play sounds for the spiders on his smartphone, and a camera to film their reactions.
Stafstrom gained experience camping with the spiders during his studies.
As a graduate student at the University of Nebraska – Lincoln: "I was alone in a tent in Florida for two months in the middle of summer. It was rough, my sleep schedule was very strange, but it's definitely the best way to study these spiders, "he said.
During another field mission in Costa Rica, Stafstrom was actually bitten by an ogre-faced spider.
"I could have the world record for the only person ever bitten by these spiders," said Stafstrom.
The bite was harmless, he said – it just itched for a while.
Spinning and Technology
There is still so much we don't know about spiders, and that is a void that we need to fill, according to Hoy and Stafstrom.
Researchers investigated how spiders and other small animals can see and hear to further new discoveries and applications in nanotechnology.
"If we can figure out what devices they are using and how they process information, we should be able to translate that into better biosensors, better directional microphones or visual processing algorithms through biomimicry," said Stafstrom.
"The point is, any understaffed, underrated group has a fascinating life, even a happy spider, and we can learn something from it," added Hoy.
RELATED: It's National Cat Day: Celebrate With These 20 Photos
These were the details of the news These spiders have no ears. But they can hear you,... for this day. We hope that we have succeeded by giving you the full details and information. To follow all our news, you can subscribe to the alerts system or to one of our different systems to provide you with all that is new.

It is also worth noting that the original news has been published and is available at de24.news and the editorial team at AlKhaleej Today has confirmed it and it has been modified, and it may have been completely transferred or quoted from it and you can read and follow this news from its main source.