LGBT Brazilians try to gain space in the Catholic Church –...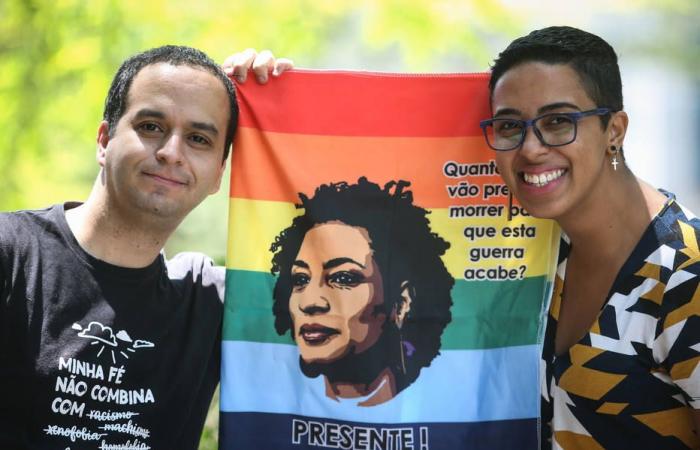 The defense of civil rights for the union of gays, made by Pope Francis, strengthens internal work in churches of LGBT groups neglected by the Catholic hierarchy. The opinion is Cris Serra, coordinator of the National Network of LGBT Catholic Groups and Catholic Diversity, the oldest of them, founded in 2007 in Rio. Psychologist and doctoral student in Public Health at the State University of Rio de Janeiro (UERJ), she claims that she considers the pope a "moderate" on moral issues, but assesses that he drew up a pontificate that will hardly be able to align himself again with "moralistic" and "anti-gender" discourses, because of the clash with Catholic ultra-conservatism.
"It is the first time that I have heard from the highest authority of the Church that we have families. That's a big deal, "said Cris, commenting on the pope's statement in the documentary" Francesco ". "There are people who follow Christ and arm them with their hands," she said, without mentioning the president's name Jair Bolsonaro.
Were you also surprised by Pope Francis' words?
It is not a doctrinal change in the Church. It happens in the context of other gestures of Pope Francis, sympathetic nods to LGBT people. But they are words from a pope, reproduced all over the world, this has an impact. The fact that the pope speaks about homosexuals and the family has an impact, in the context in which certain groups globally appropriate this word, such as "defenders of the family", to wage a certain ideological war, using the language of Christianity as an instrument. Even more from this pope, who, when he was president of the Argentine Episcopal Conference, waged a violent war against the project of civil unity. Then, what was originally a civil union project turned into an egalitarian marriage and was thus approved. It was a devastating defeat for the Argentine Church headed by the current pope. This person, with this story, defending the idea that LGBT people are entitled to civil union is also quite strong.
What changes?
What he said strengthens certain voices and currents in the Church. Our hope is to strengthen people's work in this perspective of valuing diversity as something that enriches, not just tolerate. That maybe it can change the look for the presence of LGBT people. And also human rights and combating structural violence against the most vulnerable groups. I started at Diversidade Católica in 2007. Until 2013, when Francisco took over, I worked under Ratzinger. When Francis arrives speaking in a Church with open doors, in respect, dialogue with the different, that the Church cannot be transformed into a moral customs, but in the pastoral embrace, in welcoming everyone. It was very interesting to see how a demand for discussion, debate, conversation debate, basic information about LGBT within the church exploded at that time. Fathers, nuns and lay people wanted to talk about it. It was not talked about. The conversation he had with a Chilean gay man, the phrase "Who am I to judge?", The washing of a transvestite's feet on Holy Thursday, receiving LGBT groups to talk … This creates a certain atmosphere, to deny. Is it the same thing as a change in doctrine? It is not. Could he change the doctrine alone? No, you can't. Would this pope like to change the doctrine? Do not know. He is controversial, from time to time he says something anti-gender ideology, he adheres to this discourse of the moral crusade against gender ideology. This expression, by the way, is a Catholic invention, appeared in conservative American Catholic environments in the 1990s to delegitimize gender studies and feminist and LGBT movements.
They say he is morally conservative.
I would not say that he is conservative or progressive. In moral terms, I would say at most that you are a moderate. He created a contradiction that I don't know how he will get around. He emphasizes the pastoral issue, instead of discussing something abstract, detached from people's lives, he emphasizes meeting and welcoming people. It is difficult to be moralistic like that. It is difficult to sustain a certain conservatism if you say you welcome people the way they are. I am curious if it will be possible for Francisco, in this context of growing tension, to continue to adhere to the anti-gender discourse, because to strengthen this discourse is to strengthen the extreme right, this issue is one of the axes of the extreme right. This happened a little at the beginning of his pontificate.
Could it be part of a political strategy in the Curia, so that conservatives don't play against it?
He has been very brave, I need to acknowledge, with the conservatives. She has already suffered accusations of heresy in the letter after the Family Synod, when she spoke of the need to welcome married couples in second union, she speaks of LGBT people. He was formally questioned twice by cardinals. The war he faces in American Catholic conservatism is brutal. Steve Bannon, the friend of Trump and Bolsonaro, has already declared that his number one enemy is Pope Francis. The pope's position naturally polarizes with theirs. This film seems to be a great mapping of its causes against the extreme right, such as ecology, sustainability, immigrants, the collapse of the financial system, covid-19. This ultra-conservative movement uses a Christian language to speak on behalf of the West, of Christian civilization, and the pope comes and says "this is not Christianity". The guys are possessed, because it demoralizes. They hate the pope.
Are you satisfied or did you expect more from the pope?
We have a lot of work ahead of us. We live in a cis-heteronormative, binary, LGBTphobic society. The Church is part of that society and, at times, it seems that it concentrates forces that take this ordering even more seriously. They make a lot of noise. There is a lot of silence from people who think differently and work for a different world and for a different Church. This is not my Christianity. I speak in general, as a progressive Christian, LGBT Christian, Christian feminists, and not only in Catholicism. There are people who follow Christ and arm them with their hands and there are people who follow a Christ who was tortured, peripheral political prisoner, who was not white and not even with a blue eye. We are not satisfied. It was very important for an authority figure looked at by so many people who don't even know about our existence to say that and make headlines in all the newspapers around the world, not in an obscure documentary that nobody would know about. My mother sent the photo from the newspaper, saying "You may already know this, but what a victory".
Do you expect a change in doctrine?
Obviously, changes in doctrine are important, but the Church's global policy is extremely complex. I have a priest friend who says he usually says: 'Nobody rules this bagasse'. People think the pope can take a pen and work things out. It is not how it works. So much so that we have seen the level of resistance and attacks in Catholicism that this pope suffers. Ultra-conservative segments say he isn't even a pope, after all he has another pope alive. Ratzinger corresponds to a certain set of values, and Francisco. They are different Church projects. The Church is not only the pope, the cardinal the bishop, the layman, the grandmother who goes to Mass, the boy who participates in the youth group. It is a multitude of voices.
Much importance was attached to him having quoted the word family.
He doesn't talk about starting a family, but he speaks ambiguously. Not even in marriage, because it would cause another war, he would be dead, and the people in the Vatican are good with poison (laughs). But he says 'People have a family'. There is this flag in LGBT activism 'We are family, we also have family'. This is not free. This pope is not naive, nobody who arrives where he is is a fool.
He's holy, but he's not a fool.
Definitely not. In that interview in 2013, on the plane returning to World Youth Day in Rio, when he says "Who am I to judge?". It was the first time that a pope publicly uttered the word gay. The Church documents have a certain discursive strategy of not recognizing the way people are called. In Catholicism, they speak of "homosexual acts and tendencies". It was very revolutionary for the Pope to speak "gay" in 2013. And today a friend commented that it was a great news that he said that, that we have a family, in 2020.
What did the gay Catholic comment about the Pope's interview?
People were very surprised, in a good way, very happy. It was very positive because people work within the church, in welcoming, in witnessing. It's a breath, right?
Does it bring spiritual comfort to gay men in personal or family conflict?
There are very different situations. Some of us learn to open a direct line with God and think 'Let me get along with Him. If I wait for the approval of the pope, the cardinal or the bishop, I will die sitting '. Now, there are people who are at some point in our lives impacted by a very heavy speech, a speech that is more papist than the pope, heavier and condemning than the doctrine expressed in the catechism. I have an acquaintance who attempted suicide after hearing for the umpteenth time from the priest in his parish that the homosexual had the 'demon in his body'. The Church is more complex than what is written in the catechism. It is not written that a homosexual act is a sin. I imagine that for some people it is an encouragement to hear from the highest authority of the Church, once again, that 'all right', in some way. It is the first time that I hear of the maximum authority of the Church that we have family. This is a big deal.
Do you have a good dialogue with CNBB?
Many people at CNBB know that we exist, but we live in a complicated context. We have already communicated both nationally and locally, we send a letter saying that we are going to meet. We have no expectations of who someone from CNBB will show up to participate. We communicate to anyone to say that we are doing it hidden. But there was never a search for the CNBB to call us to talk officially or unofficially. There are local initiatives, such as the Diocese of Nova Iguaçu, in Rio, which is the only one that has a Diversity ministry. These initiatives are always surrounded by a certain tension. I don't know if it is a game for the CNBB to chat with us, because there are pressures from conservative sectors accusing the bishop of promoting gender ideology. It has already happened, and the bishop later said that he had nothing to do with it.
But do not the Pope's words pave the way for a dialogue with the CNBB?
It favors, but we live in an extremely unfavorable local context in our country, with the extreme right in power. People talk a lot about evangelicals, neo-Pentecostals, but Catholic ultra-conservatism is a tremendous force. I think the people who elected Bolsonaro were Catholics. That virulence at the hospital door, of the 10-year-old girl who had the abortion, is all Catholic.
Is there a request from you to have a Diversity ministry?
No. We are currently 23 LGBT groups in Brazil. We're working.
These were the details of the news LGBT Brazilians try to gain space in the Catholic Church –... for this day. We hope that we have succeeded by giving you the full details and information. To follow all our news, you can subscribe to the alerts system or to one of our different systems to provide you with all that is new.

It is also worth noting that the original news has been published and is available at time24.news and the editorial team at AlKhaleej Today has confirmed it and it has been modified, and it may have been completely transferred or quoted from it and you can read and follow this news from its main source.