No less dangerous than the virus itself .. Here are 5...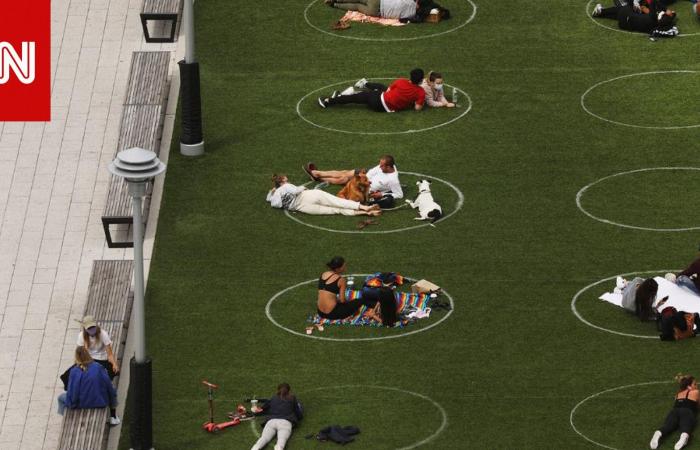 Dubai, United Arab Emirates (CNN) – Since the new Corona virus first appeared at the beginning of 2020, many concepts have evolved about how people become infected with the virus and how to protect ourselves from contracting it.
But with this development, in the changing information and recommendations, a state of confusion arose, and in some cases caused the appearance of misinformation.
On Wednesday, the Director-General of the World Health Organization, Tedros Adhanom Ghebreyesus, said, "Just as Covid-19 has spread around the world, so do rumors, lies and misinformation about it," noting that it is no less dangerous than the virus itself.
Tedros explained that the World Health Organization and its partners "call on all countries to develop national plans of action to promote scientifically based health information and combat misinformation."
"We call on the media, technology companies, civil society and researchers everywhere to prevent the spread of the information epidemic," Tedros added.
Here are some common myths and misconceptions about the Coronavirus
Only the elderly are affected by the virus
The truth is that people of all age groups have been affected by the emerging coronavirus. While the elderly are among the groups most vulnerable to infection, "Covid-19", and death from the disease, young people are not immune from infection in any way.
And a new study published on Wednesday in the Centers for Disease Control and Prevention's Disease and Mortality Weekly Report found that young people between the ages of 20 and 29 account for more than 20% of all confirmed cases of "Covid-19" in the United States. During the months of June, July and August, which is the highest prevalence of all age groups.
The National Center for Health Statistics has reported more than 1,800 Covid-19-related deaths among youth under the age of 35, including 419 deaths among young people under the age of 25.
In addition, 851 children under the age of 18 have been hospitalized.
The elderly may be more susceptible to infection due to their suffering from pre-existing conditions, known as comorbidities, that make Corona virus infection worse, or their immune systems may weaken with age.
Some young people also have comorbidities that make them more susceptible to severe illness.
In some children, the virus can cause the immune system to overreact, causing inflammation and triggering a chain of chemical reactions known as a "cytokine storm", which destroys the body, a condition known as multi-system inflammatory syndrome in children.
Masks do not protect you from the Corona virus
This is perhaps the most controversial misconception ever. Early in the pandemic, masks were said to be unnecessary for those who are not regular close contacts of the sick. In addition, due to a persistent shortage of resources to this day, people have been required to leave the N-95 masks for frontline health care workers.
But masks have become necessary after we began to understand two very important facts, the first is that people can transmit the virus even if they do not show symptoms of the disease. The second is that the virus is likely to spread through the air, in small droplets that contain viruses called aerosols, and not just by coming into contact with a contaminated surface or exposure to large respiratory droplets.
Masks protect other people from the droplets that the wearer, which contains viruses, could put into the air by breathing, sneezing, coughing, or even talking.
Some studies have found that masks can reduce the amount of droplets a person breathes in the air by up to 90%. One study also found that masks reduce respiratory virus transmission by up to 56%.
And surgical masks contain an electrostatically charged filter that captures viral particles.
And wearing masks with valves should be avoided, as while they make breathing a little easier, they release unfiltered air, so if the wearer has the virus, this does not protect others from infection, which defeats the purpose of the mask in the first place.
You can only contract "Covid-19" if you have close contact with someone who has symptoms of the disease
It provides early evidence that the virus can spread not only through touch or through respiratory droplets, but also through aerosols, which can remain in the air for hours and travel a distance of more than 6 feet or more, especially in places with high Low ventilation.
While the Centers for Disease Control and Prevention and the World Health Organization don't explicitly acknowledge this yet, they are slowly moving in this direction.
The Centers for Disease Control published, over the weekend, new guidelines regarding the transmission of the airborne virus, but returned to its old directives on Monday, explaining that the new wording was a draft version that has not yet been fully revised.
Coronavirus is similar to influenza
Covid-19 virus and influenza virus are similar and may share some similar symptoms, including fever, fatigue and coughing. However, there are significant differences between them.
And according to the Centers for Disease Control and Prevention's latest estimate, the risk of dying from "Covid-19" is low for people under the age of 50. And between 50 to 69 years old, the ratio is 0.5%, and for people over the age of 70, it jumps to 5.4%.
The likelihood of dying from influenza is about 0.1%.
According to statisticians at the Centers for Disease Control and Prevention, Covid-19 is likely to be in the top ten causes of death in the United States for all ages in 2020. It is likely to come in third place, after heart disease and cancer.
Everyone can get vaccinated against the Coronavirus this winter
There was a lot of speculation about when to get the vaccine against the Coronavirus, with some optimistic forecasts as early as October. Many developers expect to have data ready to share this fall.
But Anthony Fauci and other public health leaders said it was unlikely that a vaccine would be available by US Election Day.
The US Food and Drug Administration is studying new rules for licensing the "Covid-19" vaccine, according to three sources familiar with the situation, and accounts show that these rules will push the license beyond US Election Day.
And even if a candidate vaccine gets an emergency use permit or explicit approval this fall, there is no way to provide adequate doses for everyone immediately.
"If it is proven effective in November or December, we will not have sufficient doses of the vaccine," said Dr. Moncef Al-Salawi, head of Operation High Speed, the government's vaccination initiative.
Al-Slaoui explained that there will be a few million doses of the vaccine available in November and perhaps 10 or 20 million of them in December, adding that it will be sufficient to start giving the vaccine to some population, not everyone.
Pointing out that it is not recognized that any vaccine will be effective enough because data is not yet available, Al-Sallawi said that certain groups, such as health care workers and people at risk of contracting the disease, will have priority.
As for the rest, it appears that the vaccine will be available to them "by mid-2021", according to Al-Sallawi.
These were the details of the news No less dangerous than the virus itself .. Here are 5... for this day. We hope that we have succeeded by giving you the full details and information. To follow all our news, you can subscribe to the alerts system or to one of our different systems to provide you with all that is new.

It is also worth noting that the original news has been published and is available at saudi24news and the editorial team at AlKhaleej Today has confirmed it and it has been modified, and it may have been completely transferred or quoted from it and you can read and follow this news from its main source.