Thank you for your reading and interest in the news Invasion of Kuwait 30 years on: Iraq still reeling from disaster of Saddam's misstep and now with details
Hind Al Soulia - Riyadh - Saddam Hussein's invasion of Kuwait, 30 years ago on Sunday, and its aftermath left a legacy of economic and social devastation from which Iraq has yet to emerge.
The invasion amounted to a disaster of epic proportions, even to Iraqis used to the harshness and missteps of Saddam's rule. Only two years earlier, Iraq's war with Iran ended with one million killed on both sides over the course of eight years.
This time, Saddam's miscalculation destroyed their livelihoods. The monthly salary of a university professor became barely enough to buy a carton of eggs.
Official Iraqi data, shown only to Saddam by central bank officials, revealed that the economy contracted by 56 per cent in 1991 - although some of the decline was reversed in 2001 as illicit trade with Syria and with Iraqi Kurdistan, which was under US and British air protection, went into full swing.
The Iraqi currency was one of the strongest in the Middle East before the invasion of Kuwait, with one Iraqi dinar buying three US dollars.
By the eve of the American advance towards Baghdad in March 2003, one dollar bought 3,500 dinars.
The exchange rate recovered somewhat to 1,400 dinars to the dollar by the end of 2003. The dinar is trading at 1,200 to the dollar today, still immensely weaker in value than before the invasion and the UN sanctions it provoked.
Saddam invaded after Kuwait resisted his demands to write off $14 billion it had lent to Iraq, mostly during the Iraq-Iran war, and to lower Kuwaiti oil production.
Within days, the United Nations voted for the sanctions to punish the Iraqi government for the invasion and to prevent it from importing technology to make weapons.
It then authorised the Gulf War that removed Saddam's forces from Kuwait and dealt the Iraqi army one of the heaviest defeats in modern history. Bombardment by the US-led coalition inflicted massive devastation on Iraq's infrastructure.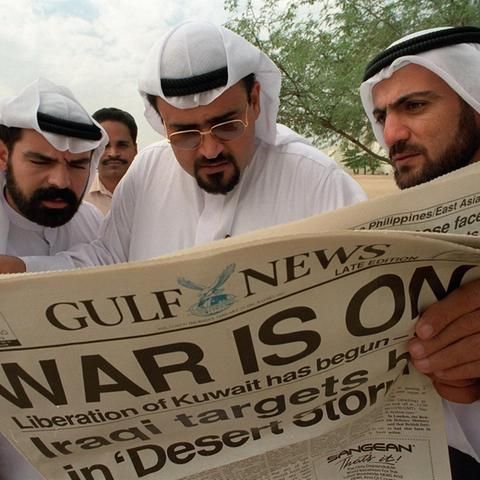 Since the war Iraq has paid at least $48bn of the $52bn the United Nations Compensation Commission ordered.
The commission set compensation for the destruction by Saddam's troops of Kuwaiti oil fields and other state-owned and private assets during their seven-month occupation of the country.
Iraq's current finance minister, Ali Allawi, said that by the end of the war in 1991, Iraq "was faced with catastrophic economic, social, and administrative collapse".
Mr Allawi, a former banker and academic, was speaking at a confidential meeting in Berlin in March, two months before he joined the new government.
The National obtained a copy of his presentation, about "institutional decay" in Iraq.
He cited teachers receiving bribes to pass students and doctors refusing to treat patients unless they were paid extra as examples of massive corruption.
The sanctions produced "a widespread network of smugglers and fixers who dealt routinely in bribes and corruption", he said.
As the sanctions took a huge toll on Iraqi civilians, the UN reached an agreement with Saddam's government in 1996, allowing it to sell "oil for food" and other humanitarian goods.
After Saddam fell, details emerged of the extent of corruption in the programme, forcing the United Nations to start an investigation headed by Paul Volcker, the former US Federal Reserve chairman and one of the world's most respected financial figures.
The 2005 Volcker Report documented how Saddam and his associates used the oil-for-food programme to obtain illicit income, with multinational and smaller companies paying bribes or kickbacks to the regime to obtain contracts.
Saddam also used oil sales to reward officials and politicians in the Middle East, Russia, France and Britain for supporting the regime. The sales generated $1.8bn in illicit income from 2,200 companies in 66 countries.
On top of the cash flow from the oil-for-food programme, Saddam's son Uday opened major oil smuggling channels through Syria and Iraqi Kurdistan.
For the sake of business, Syrian President Hafez Al Assad buried a decades-long rivalry with Saddam and reactivated the Kirkuk-Baniyas pipeline, through which up to 200,000 barrels per day of Iraqi oil was smuggled.
Uday also did business with Kurdish politicians, a few years after the gassing of the city of Halabja by Saddam's air force, to smuggle oil and fuel through Iraqi Kurdistan to Turkey.
A new class of mostly Sunni smugglers emerged in Saddam's territory.
They preferred to dine at Lanterns, an old restaurant in Baghdad favoured by Uday until an assassination attempt that almost killed him in 1996 and curtailed sharply his public appearances. Uday occasionally had cigars after dinner and tipped generously.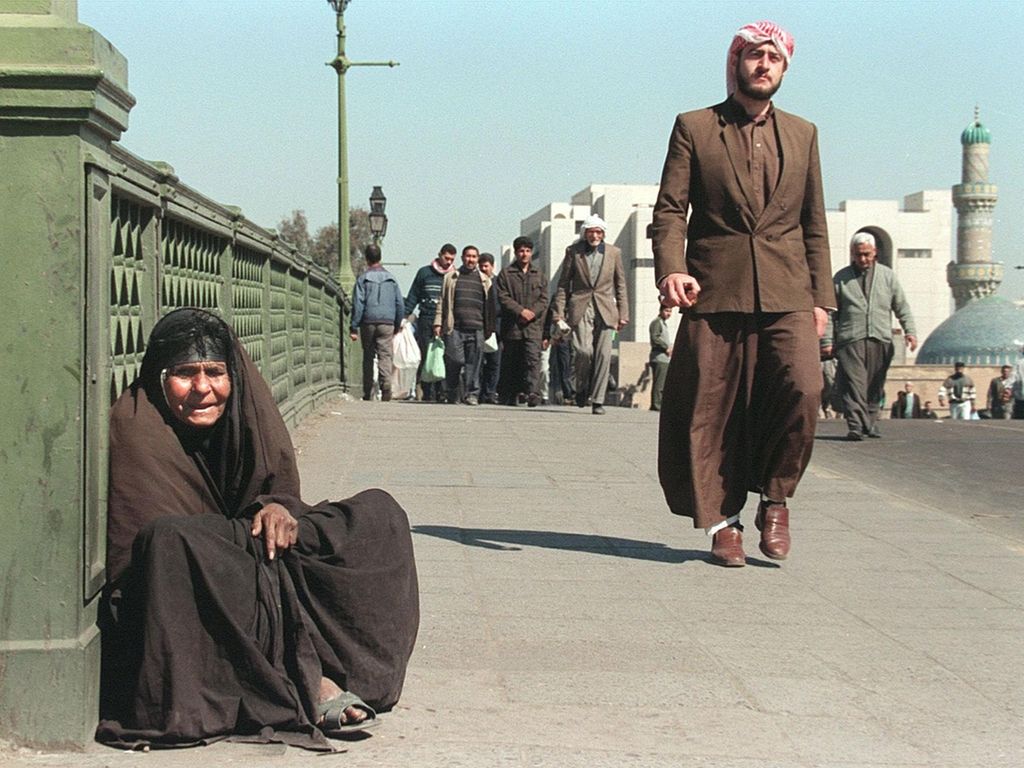 Lanterns were also favoured by the smugglers because they had booths, where alcohol was served away from prying eyes. Although Saddam imposed restrictions on the sale of alcohol and its consumption in public, he never banned it outright.
By this time Saddam had initiated a huge mosque-building programme and even female members of the avowedly secular Baath Party were being encouraged to wear the headscarf.
A more hard-line form of Islam was tolerated, especially in Fallujah and other Sunni areas in eastern Iraq, which later became the main recruiting ground for extremist groups.
Saddam also promoted Shiites he saw as a counterweight to perceived "Persian" influence in the Hawza, the Shiite religious schools in the holy city of Najaf.
One was Ayatollah Mohammad Sadiq Al Sadr, father of the cleric Moqtada Al Sadr, today the kingmaker of Iraqi politics. Mohammad Sadiq fell out with the regime and was killed in 1999.
Iraqi political analyst Sajad Jiyad said the religious campaign set the scene for Al Qaeda and other extremist groups to find "an incubator" in Iraq after Saddam fell.
The health and education sectors were decimated. Links between Iraqi universities and hospitals and the outside world were severed.
Most of the population had no access to the internet, mobile phones and international television, Mr Jiyad told The National.
"There was no transfer of knowledge. Society was dismembered and its informed layers had escaped," he said. "The embargo benefited the state and weakened the people."
Mr Jiyad said the brain drain and "lack of awareness" in society, combined with the terror under Saddam, has affected at least two generations since 1990.
Many Iraqis went on looting rampages after Saddam fell. In Baghdad they were mostly disenfranchised Shiites in Saddam's City, later renamed Sadr City.
They regarded the things they stole "as not belonging to the state but to Saddam", Mr Jiyad said.
Hours after a US tank pulled down Saddam's statue from a main square in Baghdad, looters, some of them armed, ransacked government buildings and the large villas belonging to Saddam's associates.
They drove tractors, trucks, and a bus to the villa of Mr Aziz, who also served as Saddam's deputy prime minister.
Aziz had met with US Secretary of State James Baker in Geneva in January 1991. The meeting was billed as a last-ditch effort to avoid war between Iraq and the United States.
He reiterated Saddam's position that Iraqi would not pull out from Kuwait unless Israel withdraws from the Palestinian territories.
Seven weeks later, Saddam's generals accepted a de facto surrender in the Gulf War.
One man from Sadr City had brought his wife and children and his extended family to Aziz's villa. They did not touch anything.
"I just wanted to show my family how they lived and how we live," he said.
The looters stole everything, even electrical wire they stripped from the walls. But they left Aziz's books.
One was the Godfather, by Mario Puzo.
Iraq was ruled by a mafia that in many ways thrived as the people suffered.
A main reason behind a civil uprising that broke out in October, and was later crushed, was a popular belief that the old oligarchy was replaced by a new one.
The country's new prime minister, Mustafa Al Kadhimi, promised a break with the past, and an end to militia rule.
But state coffers are empty. With the decline in oil prices, officials say government revenue is around $2bn a month, compared with the $5bn monthly cost just for salaries.
Three per cent of that oil revenue this year is supposed to pay for the remaining oil reparations to Kuwait, a feat that is looking more unlikely by the day.
Kuwait City was one of the first foreign stops for Mr Allawi, the finance minister, as soon as he took the job in May.
He is seeking Arab investment to prop up the economy and wants to establish a sovereign fund to safeguard the oil wealth from corruption.
Many of the same militia-linked power centres Mr Al Kadhimi and Mr Allawi detest have cheered their plans, because they do not want Iraq to sink financially.
Like the Godfather showed, the mafia-like militias can adapt.
Updated: August 1, 2020 03:52 PM
These were the details of the news Invasion of Kuwait 30 years on: Iraq still reeling from disaster of Saddam's misstep for this day. We hope that we have succeeded by giving you the full details and information. To follow all our news, you can subscribe to the alerts system or to one of our different systems to provide you with all that is new.

It is also worth noting that the original news has been published and is available at The National and the editorial team at AlKhaleej Today has confirmed it and it has been modified, and it may have been completely transferred or quoted from it and you can read and follow this news from its main source.