Weight Loss: This guy changed his diet every 10 days and...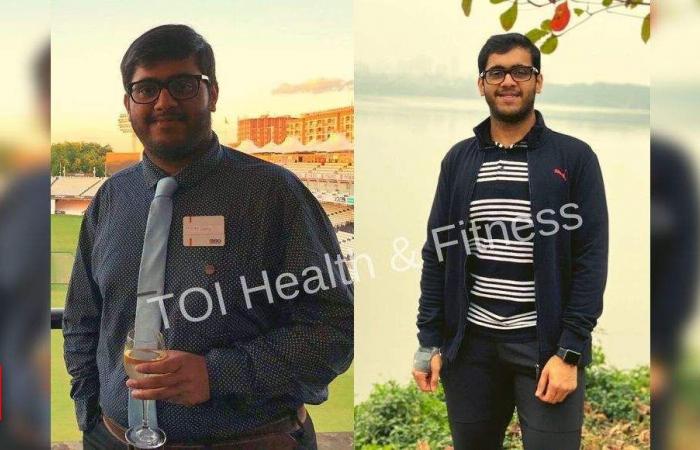 Living a healthy lifestyle is easier said than done. Rishabh, 23, realized the value of good health while studying abroad and decided it was time to see the change in yourself. After strict diet and exercise controls, he lost over 50 pounds in less than a year. His weight loss story is super inspirational for anyone looking to get in shape.

Name: Rishabh dhedia
Occupation: Entrepreneur
Alter: 23
Maximum recorded weight: 138 Kilograms
Weight loss: 51 kg
Time it took me to lose weight: 11 months
The turning point: I've been an obese kid all my life, but it wasn't until I moved to the UK that I realized the importance of good health. I was there for my masters and there I saw people with different health consciousnesses. The people there have equated a high level of fitness with an elitist lifestyle. I realized that I wanted a better lifestyle, to feel healthy and flexible, to deserve the respect, and to wear all the clothes I wanted to wear. I didn't mean to be mediocre, all the excuses, the stress and the bad lifestyle.
Although things didn't move in a positive direction until I returned to India after graduation in late 2018, I am grateful for all of the lessons I received during my time in the UK.
My diet: I have consulted a nutritionist for a while now and it has helped me a lot! To give you an idea, my diet changed every 10 days! This may not work for everyone, but here are some details that can help others!
On this diet, I ate about every 1.5 to 2 hours. It may seem like I ate a lot, but that really helped me with fat loss.
breakfast: A glass of warm water with cinnamon powder / garlic paste / jeera or sonth powder / haldi, right after waking up.
30 minutes later, I'll have a cup of green tea. Then I have a large bowl of fruit (there's a whole list of what you can and can't eat)
An hour later I would have dry fruits (4 soaked almonds, 0.5 walnuts, 2 plums, and a small slice of jaggery).
After this snack, I would have breakfast. A slice of brown bread toast (any multigrain wheat bread) with baked beans, sautéed with vegetables and tomato sauce (all homemade foods) / homemade besan chilla with lots of vegetables. (Previously, the options would change every ten days based on how my body responded to a particular element of food, but that was largely what I was given in due course.
This was the time when I would physically go to the office. Around 11:30 am I would drink a glass of lemon juice or chaas (with 1 tablespoon of ajwain) or coconut water.
My lunch: Sometimes bowl of leafy vegetables with 2 chapatis and chaas or 5 tablespoons of fresh quark / or sautéed vegetables with 2-3 low-fat khakras.
On days I also had a bowl of daliya with vegetables.
2 hours later a cup of green tea with a biscuit.
Strictly at 6 p.m. I would have a glass of lemon juice or a handful of dried fruit.
A while later, I ate fruits like apples or pears. If for some reason my dinner was delayed, I would eat a different fruit.
My dinner: Usually flexible in my case, I had it earlier between 8pm and 9pm. It would normally be a soup with 2 tomatoes + 0.5 carrots + a small bowl of Bottleguard + a small bunch of coriander + 0.5 bell pepper + 0.5 red bell pepper + 15 palak leaves & 1 wheat capati + vegetables + 5 tbsp Dahi / Besan Chilla x 2 / Khakra x 3 with sauteed vegetables and soup / Vegetable toast sandwich without cheese, butter, potatoes and soup.
I also ate eggs and a lot of poha. My body got so used to this disciplined form of eating that every time I tried cheating on my diet or eating junk food, I developed IBS. Maybe it was my body's way of telling me what I am eating is wrong! Even if I cheat now, I resort to healthier options like the Buddha bowl, egg dishes or healthy sandwiches.
Mein Training: Following my nutritionist's guidance, she instructed me not to even look at the gym initially as I just had to cut the extra fat to function injury-free.
Once, when I hit 120 kilos, she advised me to walk briskly 30 minutes after dinner. The goal was to start full-fledged workouts, including strength training and high-intensity workouts, as soon as I near 100kg. When I was there, I started going to the gym to increase endurance, work out at high heart rates and thereby strengthen my core, back, and all muscles. Weight loss combined with concentrated fitness training is the best thing that has ever happened to me. After a successful 7 month run of heavyweight training and HIITs, I had an unfortunate injury. I tore my right wrist strap, which also happens to my haunted hand. I had to have an operation. Soon after, I started having problems with my left hand too. I realized it was time to go slow.
At that moment, I completely rested from work and within a few days there was a lockdown which meant I was completely at home. Because of the blockage, both of my wrists were adequately rested, and therefore the healing process began and my injuries were fully healed in two months. In September I started my fitness training again with a lot of cardio, because I have to build up the stamina that I lost through the long break from training.
Low Calorie Recipes I Swear By: I am not counting my calories. It's the worst. I don't eat less either. I am eating right. This should be the mantra. Don't count your calories, don't eat less, just eat right.
Fitness Secrets I Revealed: Being punctual and adhering to a number of educated disciplines is most effective. It may sound cliché, but it really helped. There's a reason I wrote "STRICTLY" against all times of my daily routine, I followed it with the utmost punctuality. It works like magic. The second fitness secret is a secret in the form of a natural ingredient that is WATER. One thing that never changes with the 10 day diet changes is water intake. I drink at least 5 liters of water every day. This helps with good aqua levels in my body, keeping mine well hydrated and fresh. Ensures that toxins are flushed out regularly and that an effective metabolism takes place.
How do I stay motivated? The positive results motivate me to keep doing better and when the goals are clear, nothing can stop me personally. After a while, when people notice it, they pile up praise for you. You are my greatest motivation. I enjoyed being fat ashamed because it only made me mentally strong and I knew I was being criticized for not doing the right thing. My mind is programmed to be that of a leader, and a leader must accept criticism from people and turn the tide in their favor by doing the right things. The mentality helps you win.
How do you make sure you don't lose focus? When you visit my nutritionist every 10 days for regular advice. It's all psychological science that is absolutely sensational if you ask me.
What is the hardest part of being overweight: It is not easy not to fit into clothes you plan to wear and to ask for an extension to put your seat belt on on an airplane. I was so often out of breath. Always be prone to injury and stereotypical. It was all so emotionally exhausting.
What shape do you see yourself 10 years later?: I never wanted to get "slim", but always wanted to be fit. I'm about 5'11 "and I want to be in good shape, well built with strong muscles.
What are the lifestyle changes that you have made?: When I was overweight, I visited my tailor so often. Jokes aside, I've started talking to people more about health and fitness and how it can be a "lifestyle" worth adopting. Now I don't starve at all and carry my food with me when I know it will be outside and irregular for me.
What was the lowest point for you? While the diet was super successful for me, it came at a cost. I made a conscious decision to cut myself off from my party friends. But I was fortunate to have some really close friends who supported me at the time.
Lessons from Weight Loss: Never fall into the heavy weight trap. Control it from the right age. It affects a person in 360 * ways. Be a winner. Be in control of your mind and influence yourself to do the right thing. Be an inspiration and role model to others who are still sailing in the previous boat you jumped off.
If you have a weight loss story to share, submit this on [email protected].with
These were the details of the news Weight Loss: This guy changed his diet every 10 days and... for this day. We hope that we have succeeded by giving you the full details and information. To follow all our news, you can subscribe to the alerts system or to one of our different systems to provide you with all that is new.

It is also worth noting that the original news has been published and is available at de24.news and the editorial team at AlKhaleej Today has confirmed it and it has been modified, and it may have been completely transferred or quoted from it and you can read and follow this news from its main source.