Four America Experts on a President's Swan Song: "Don't Write Trump...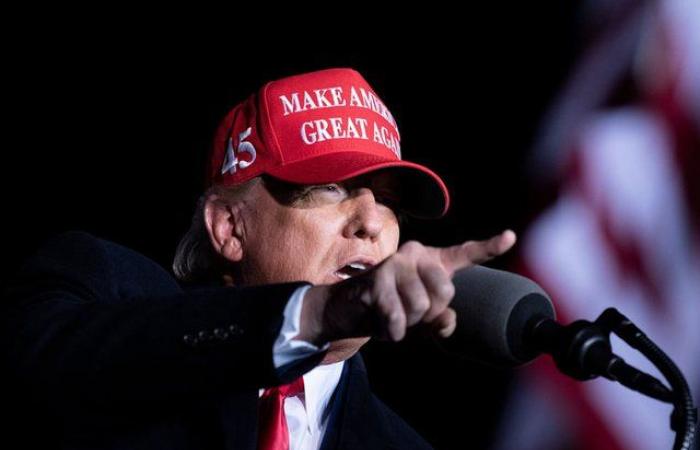 Donald Trump's presidency is coming to an end. How noisy will his exit be? And will it continue to weigh on American politics? Four America experts give their opinion.
Democratic candidate Joe Biden received more votes than anyone in the history of the US presidential election. What we lose sight of, a Financial Times commentator noted, is Donald Trump's record as second best.
…
Democratic candidate Joe Biden received more votes than anyone in the history of the US presidential election. What we lose sight of, a Financial Times commentator noted, is Donald Trump's record as second-best. No wonder Trump doesn't just give up. In states where he lost narrowly, he wants a vote recount, like in Wisconsin, with uncertain outcome for Trump. "Nobody believes the recounts will help him," says Matthias Matthijs, professor of international political economy at Johns Hopkins University. "In Wisconsin, Trump is more than 20,000 votes behind. Even Trump adherents admit that a recount could only shift a few hundred votes." Trump filed multiple lawsuits for electoral fraud, or because Republican observers were not adequately supervised the counting process, and so on. Lake. Jurgen Goossens, associate professor of constitutional and administrative law at Tilburg University, who specializes in American constitutional law, has little chance of success in the judicial process. "I have looked at the charges from the Trump camp. They are usually built on loose sand. You can make a big fuss about voting fraud, but you have to be able to prove it. There is little chance that one or even more complaints would have an impact. on the global election result. "Perhaps Trump's complaint in Pennsylvania can still make some difference, Goossens said. When Pennsylvania decided to accept ballots by mail up to three days after the election, the Trump camp went to the federal Supreme Court twice, but failed. Some conservative Supreme Court justices said they might consider the complaint. if it were decisive for the election result. In such a case, you can get the same scenario as in 2000, when a Supreme Court intervention turned the presidential election into a victory for George W. Bush over Al Gore. But with the election results like we know them now, I consider that chance almost non-existent. "Biden has enough electors behind him, but that is not an absolute certainty, according to Frank Albers, lecturer in American culture at the University of Antwerp. "In 18 of the 50 states, electors are free to choose either presidential candidate at the electoral college meeting. I think of Pennsylvania, which has 20 electors, and where Republicans have the majority in the state parliament." Goossens points out that seven electors turned their backs on 2016. "Two went for Hillary Clinton, and five for Trump, while that was not the intention. Such a scenario could be played again today. But the chance is small that Biden the victory will cost. His lead seems to be too big for that. "Donald Trump retains his full authority as president until January 20, more than two months. Matthijs is confident. "Trump can still be quite annoying, for example refusing to sign laws. But knowing him, he will mainly secure his own future, by granting himself legal immunity, which is not forbidden by the constitution. Trump has a series of judicial investigations into financial and tax fraud. to wait." The so-called presidential pardon only applies to federal crimes, notes Bart Kerremans, professor of international politics at KU Leuven and American specialist. "For example, the serious bank fraud that Trump is suspected of in Manhattan falls within the jurisdiction of New York State. Trump cannot pardon himself for that matter." Trump will do more than just try to save his own skin, according to Albers. "He will appoint as many judges as possible – not necessarily competent but ideologically reliable – to all kinds of federal courts. There are always vacancies there." Trump can also make the transition more difficult in many ways, such as shredding documents or wiping hard drives from computers in the White House. A dangerous tactic, says Kerremans. "The destruction of documents or data could violate filing laws. Trump and his associates could be presented with the bill." Trump is allowed to do the craziest thing to do – declare martial law and deploy the National Guard, or literally cling on. at his desk in The Oval Office – he can't extend his term. "The US Constitution sets the presidential term at four years," said Goossens. "On January 20 at noon it will be over for Trump, inexorably." This does not mean that Trump will return obediently to his old life in New York, says Matthijs. "He's addicted to the adoration, and he has an incredibly loyal following. Trump can mobilize people. Remember, he got nearly half the votes. I can imagine that he will declare himself leader of the opposition. , to make another bid for president by 2024. He will continue to tweet, hold rallies, dominate the news. Many think Trump will start his own TV station, starring himself on a daily show. " Kerremans does not write off Trump either. "His following is deep and broad, while Biden will have a hard time. The Democrats are deeply divided internally, and moreover do not have a majority in the Senate. If Trump stays healthy and he does not end up in jail, then his perspectives will not lie. bad. " But should Trump disappear, then also Trumpism will not last long, according to Kerremans. Some politicians can count on recognition from the Trump supporters, but they do not have the charisma of their great idol. As the German sociologist Max Weber wrote: charismatic leadership depends on one person. That is the strength and at the same time the weakness of such a leadership. " What is no longer disappearing in the US is right-wing populism, says Kerremans. "The Americans were only a little later than the Europeans." Trump will remain partly a mystery to Albers. "He's a patented liar, but has an aura of credibility in half of Americans. That's a mind-boggling combination. After 230,000 American deaths from the coronavirus, Trump says," I'm going the Obamacare (the program that gives millions of Americans health insurance. "without being electorally punished for that. It is not rationally understandable." It will not be down to the intellectual level of Trump's electorate, according to Albers. "That electorate is really not only made up of diploma-less rednecks who cannot write their own names. Trump was also able to convince part of the middle class, thanks to his tax cut. In recent weeks I have heard from many Americans that they are better off financially than four years ago. Many women have also voted for Trump, and more and more black Americans have, so something else has to play out. Trump has it from his image as an outsider far removed from the political establishment in Washington DC. "He is one of us", say the people. Then you get away with a lot. "
These were the details of the news Four America Experts on a President's Swan Song: "Don't Write Trump... for this day. We hope that we have succeeded by giving you the full details and information. To follow all our news, you can subscribe to the alerts system or to one of our different systems to provide you with all that is new.

It is also worth noting that the original news has been published and is available at news1.news and the editorial team at AlKhaleej Today has confirmed it and it has been modified, and it may have been completely transferred or quoted from it and you can read and follow this news from its main source.