The US presidential election is in the backseat, President-elect Joe Biden is already building his staff, and this is a great opportunity to check on the situation among the report's friends, proponents of the QAnon connection theory, who were among
Trump
's biggest supporters, and … Upon them the loss of their Messiah.
In the months leading up to the election, the QAnon conspiracy became a significant force on social media. At one point its Facebook activity encompassed millions of users, but shrank as social networks began to close groups and restrict accounts. The theory is complicated and multi-armed like an octopus, but at its core is the notion that Trump ran in the election and was elected president to wage a bitter war in the Deep State – another kind of conspiracy theory that the US is actually run by a secret group of senior officials and stakeholders. The real decisions.
QAnon conspiracies Photo: Getty Images
The main character in the conspiracy is Q, an anonymous user who started working on the forums site 8chan, and later 8kun, and claimed to be a senior administration official with a Q. He used to post amorphous messages retroactively posted by his followers as proof that he had moves near Trump and had prior knowledge meaning.
Relationship theory has had a significant impact on the election campaign. Two prominent QAnon supporters, Marjorie Taylor Green and Lauren Bobert, were elected to Congress. In addition, it may be that the errors of the polls, which predicted a victory for Baiden by a much larger margin than that actually recorded, are also related to the context theory.
Researchers at the University of Southern California have identified a strong statistical link between surveys in the various states that underestimated Trump's performance and higher-than-average activity in those states, including Wisconsin, Michigan and Ohio. "The greater the support for QAnon, the more polls erred in evaluating Trump's support," Prof. Emilio Ferrara told the New York Times
The study is based on a comparison between 240 million election tweets, collected between June and September, and the truth results from different countries. According to Ferrara, the reviewers may not have been able to weight QAnon believers because they do not trust the institutionalized media. "If you do not trust institutions, you are less likely to participate in surveys," he said.
A survey conducted by Prof. Joshua Dyke of the University of Massachusetts Lowell reinforces this hypothesis: 78% of Trump supporters said they almost never believe in the institutionalized media, compared to only 17% of Biden supporters. However, Dyke also proposed another hypothesis related to the corona plague. Because Biden supporters were more likely to stay home, they had more time to respond to polls. "The QAnon hypothesis is plausible. And the corona hypothesis is plausible. They may overlap, maybe they are the same people," he said.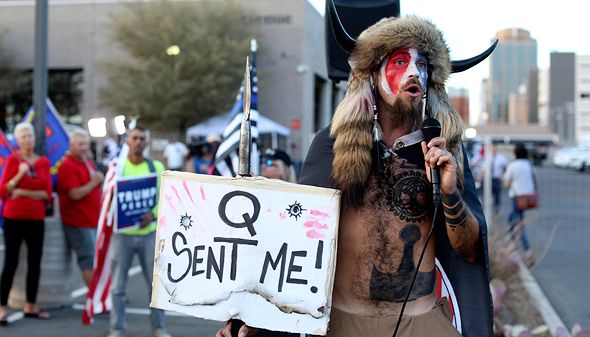 Donald Trump supporters demonstrate in Phoenix, Arizona
Photo: AP
So this is, at least in part, the impact of QAnon on the election. The more interesting question is how supporters react to Trump's loss. If I had to guess, I would say that in the denial and allegations of forgery and deception while echoing Trump's messages on the subject, although so far there has been little substantial proof of this. Indeed, some followers cling to these lies. "Biden will never be president," one of them wrote in what Kevin Rose described in the New York Times as the first step in the Kubler-Ross mourning stages model – denial. Another follower insisted: "Trump knows what he is doing. He is letting Democrats, technocrats and the media hang themselves in public."
Others were more realistic. "We are losing. I'm not sure I still trust the plan. Not sure there is even a plan," one of them wrote. "The Plan" is a key pillar in QAnon, referring to Trump's long-term plan to expose the pedophile cable and send his leaders (probably Obama and the Clintons) and his friends to jail. Trust the Plan is a central motto of context theory.
For Q's supporters, who for years believed Trump would win by an overwhelming majority, this is a losing crisis, it seems, has taken many of them by storm. And to this must be added the fact that since the election the mythical Q has disappeared from the radar. There are no more posts in his name in 8 kun, no enigmatic messages, and the activity around QAnon on the site has slowed down significantly.
According to the New York Times, there are also signs of tears in QAnon's inner circle. 8kun Director Ron Watkennis (which according to some estimates is the current incarnation of Q) https://twitter.com/CodeMonkeyZ/status/1323618794531532800 On election day for immediate resignation. His father, Jim Watkins, the owner of 8kun and another Q candidate, posted unsubstantiated allegations of forgery and fraud, but did not predict when we would see Q again.
All this left the supporters unscathed. "They feel like Deep State has defeated them, even if they don't admit it in public," said Frederick Brennan, founder of 8chan, the site where the conspiracy theory began (Brennan lost control of 8chan, resulting in Q, to the Watkinsons). "They did not expect him to lose, nor did they expect Fox News to announce that Biden had won. It did them psychological damage."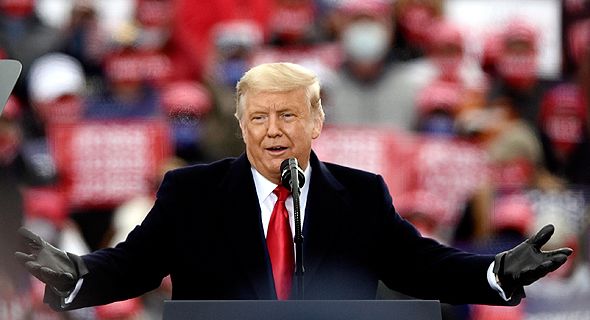 Donald Trump. 2020 elections
Photo: AP
In addition, it seems that the widespread moves of the major social networks against QAnon activity have had an impact on the conspiracy's ability to sustain itself. "QAnon believers were hoping to get a new direction if Trump lost, and now not only can they not connect to Q, there are also moves by platforms to remove sources of entertainment and leadership," said Dr. Joan Donovan of Harvard University.
The expected departure of Trump from the White House, not only the key figure in context theory but also a powerful factor that has consistently used to resonate its messages and implicitly support it, could have a crucial impact on the future of the theory. "QAnon believers are used to Q's prophecies not being fulfilled," said analyst William Partin of the Data & Society, which studies the movement. "Sometimes people are disappointed and leave. Others try to update the narrative to make failures look like part of the big plan. But it is very difficult to make such adjustments with such a big loss in the presidential election."
It is not worth rushing and announcing the death of QAnon. Relationship theory has proven to be immune to past setbacks and failures. She survived, for example, Special Prosecutor Robert Mueller's report, after it became clear that he was not working with Trump to expose the conspiracy, but was actually investigating Russian interference in the 2016 election.
It is very likely that in a short time the movement will reorganize itself around advancing the false claim of widespread forgeries, and help Trump present itself as a victim of a democratic revolution. 70% of Republicans doubt that the election was "free and fair," and lacks attentive ears to the context theory that would reinforce this perception. QAnon supporters are now showing interest in another conspiracy that uses a supercomputer to change the election results (a theory that does not explain why Democrats lost seats in the House of Representatives and are unlikely to gain control of the Senate). Another claims that Trump infiltrated secret ballots into the ballot papers to expose the forgeries of the Democratic Party.
No one thinks, despite the immediate crisis, that QAnon is on its way to disappearing from the discourse on social media. If anything, it just gets better and better. Key elements in the movement are already squinting at communities of other contact theories, such as those dealing with the flooding of fears and fabrications about the future corona vaccine. "The essence of QAnon is to tie different stories together and create a compelling narrative that offers an alternative to the mainstream media," Partin told the New York Times. "It will continue, whether Q publishes posts or not."
QAnon is larger than one factor. Bigger than 8 kun and Q, even bigger than Trump himself. 8kun can quarantine, Q can disappear forever, Trump can (in a completely fictional scenario) admit loss, shut down one of his estates and go out just to play golf, and QAnon will still be here, promoting some narrative about a cable of pedophile pedophiles trafficking children and crowning presidents .
The day after Trump, the question is not whether QAnon will survive but how strong it will be, and what impact it will have on American politics in the future. Trump could still run for president again in 2024, and QAnon supporters will pave the way for him there if he chooses to do so. But even if he decides not to run, the movement's influence on American, perhaps even global, politics will remain. Any contender who wants an instant support base will only have to present himself as a believer of Q, and will immediately win an army of millions of enthusiastic supporters. When QAnon is on the ground, American politics is likely to be much less sane, and much more extreme and delusional. And even so, her starting point is not particularly impressive.
These were the details of the news Q did his thing, Q can go? for this day. We hope that we have succeeded by giving you the full details and information. To follow all our news, you can subscribe to the alerts system or to one of our different systems to provide you with all that is new.

It is also worth noting that the original news has been published and is available at news1.news and the editorial team at AlKhaleej Today has confirmed it and it has been modified, and it may have been completely transferred or quoted from it and you can read and follow this news from its main source.