One hour before
How can you describe the smell of rain to someone who has lost his sense of smell? What about the perfume that a bouquet of beautiful flowers spreads?
For Yazmin Salazar, who suffers from this illness, her husband usually describes them.
"It tells me that the scent of honey is vibrant but calming at the same time – and it's a bit like feeling sunlight on your skin after swimming," she says.
Viasmin, 38, who lives in Phoenix, Arizona, USA, suffers from a loss of smell.
Her condition is called "Khusham", and it is a condition that raises a great deal of interest at the present time due to it being a known symptom of Covid-19 disease, which affects hundreds of thousands of people around the world.
But as for Yazmin, she has had to live with her condition from birth.
How many people suffer from this condition?
Loss of smell can negatively affect a person's sense of quality of life.
Sarah Oakley, executive director of the British organization "AbScent" concerned with educating the community about the nature of this condition, says: "The proven fact is that those who lack the sense of smell are more likely to suffer from depression."
In addition, many people cannot understand how those affected are feeling – until now at least – because it affects only about 5 percent of the world's population.
"The most common causes of loss of smell are infections that affect the upper respiratory system, such as colds, colds, influenza and sinusitis," says Sarah Oakley.
She adds that "other causes of infection include trauma and trauma to the head, radiotherapy for head and neck cancers, drug use, smoking and some neurological diseases such as tremors and Alzheimer's disease."
A person can also develop this condition when he gets old, as Sarah Oakley says, "Perhaps our knowledge of the deterioration of the sense of smell with age is less than what we know about other causes, as it is believed that about 30 percent of those over the age of 75 suffer from this Case".
"I thought I would learn to smell."
Yazmin became fully aware of her condition when she was in the second grade of primary school, when she won a school competition in which the prize was scented stickers. These plasters were popular among schoolchildren and children because they emit different odors when scratched.
Yazmin raised the plasters to her nose while her colleagues hovered around her.
"What smell did you get?" One of these asked her.
But Yazmin couldn't smell anything, so her companions lost interest in the matter and forgot it.
But Yazmin thought that her colleagues had learned to smell somehow, and that she had not. "I started imitating the reactions of my companions and family members about smelling smells, and I went along with them when they said that something smelled bad or beautiful," she said.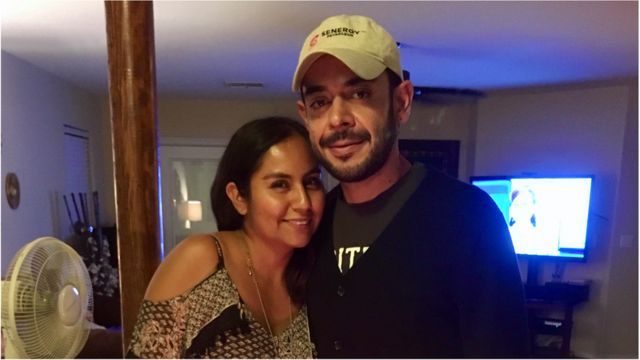 Yazmin continued in this way until she reached the seventh grade in the school when her mother was told about her condition.
"My mother was surprised and took me to the doctor's office immediately, but he advised me to continue my normal life while adhering to some precautions," she recalled.
"Al-Khasham was not mentioned during that meeting with the doctor," she added.
Over the years, Yazmin began to adapt to living with only four senses, as she relied on those close to her to know if she needed to use fresheners, for example, or if the food was about to spoil.
But this approach was not successful in all cases, as Yazmin says, "I could never know if I smelled good or ugly, so I went through a lot of shameful experiences in my workplace in particular."
"Like the occasion when I forgot to use freshener, something one of my colleagues noticed."
And Yazmin now carries a "healthy box" containing all the essentials.
Sarah Oakley witnessed similar events experienced by others suffering from loss of sense of smell, and says, "One of our association members compared me to his inability to smell his own body scent to standing in front of a woman and not being able to see his imagination."
"I lied to everyone, to myself, for years."
Rakesh Kamal, a resident of the southern Indian city of Hyderabad, has suffered from loss of smell since birth.
He believes that his illness is hereditary, as he says, "My grandfather used to find it difficult to smell odors as well, but he never spoke about it."
Rakesh has put gas and smoke sensors in his home and never goes away from the stove while he's cooking.
"A catastrophe almost happened when my wife was asleep and I could not smell the smell of a fire that broke out in the kitchen," he says. "I could not understand the seriousness of the situation until after the smoke filled the corridors of the house."
Like Yazmin, Rakesh kept his secret for several years, saying, "My companion was the first person to tell him about it, and I was at the age of 21."
"I lied all those years to my parents, my friends, and even myself, because I thought that no one would believe me – this is a case that no one talks about," he said.
But since loss of smell became a matter of discussion and discussion with the spread of the Covid-19 epidemic, Rakesh began to publicly address it in order to spread awareness of it among the community.
"As we get older, we hear about people who cannot see or hear, but no one talks about those who cannot smell," he says.
The thought of losing my sense of smell filled me with panic.
For some, like Joshna Maharaj, a cook in Toronto, Canada, loss of smell is gradually.
In her case, the factor that caused the condition to develop was a severe sinusitis that led to the growth of polyps (non-cancerous) in her nasal passages.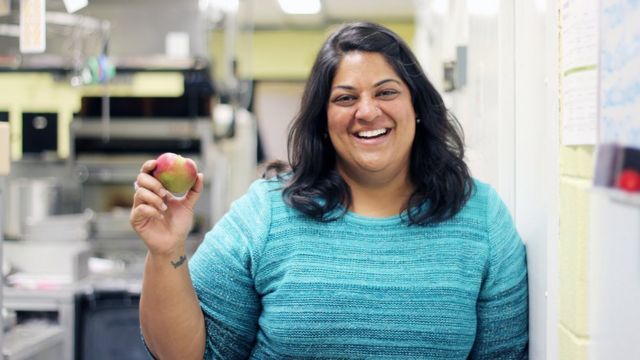 Then the situation started at first with burning foods in the kitchen, and after a while she could no longer smell the roast meat in her barbeque restaurant.
"The idea of ​​not being able to smell was so horrified to me, especially with regard to my working life, to the point that I decided to block the topic completely from my mind," she said.
Joshna became keen to use stopwatches in her kitchen, and also became very careful in everything so that her nose did not betray her.
Earlier this year, Joshna decided to come out in public through an intervention she posted on Instagram, explaining her condition and announcing that she had embarked on a "sniff training" program designed to repair the connections between her nose and her brain.
However, research on this topic indicates that "olfactory training" programs may not be a cure for loss of smell, but may increase the chances of recovery by stimulating the olfactory nerves that transmit the sense of smell to the central nervous system.
"Current interest gives a glimmer of hope."
A very bad day Yazmin went through in 2016 led her to write her experiences on her Smell Girl blog.
"Every time I make a mistake related to sniffing, I feel hopeless and despondent. But I decided to change my thinking pattern and start educating people. I thought that this would help at least one person get rid of the loneliness caused by this illness," she says.
Yazmin learned how to use humor to describe embarrassing situations, and how to use motion pictures to provide advice on dealing with loss of smell.
She says, "The focus that we are currently seeing on this situation as a result of the outbreak of the epidemic may be easy, which comes with hardship, and it is comforting that society is more aware of it."
The increased focus on loss of smell also gives a glimmer of hope to some researchers in this field.
But Sarah Oakley cautioned, "We still do not know much about Al-Khusham, but we hope that the level of attention the situation is currently receiving will translate into the launch of funded research projects to increase our knowledge of it."
These were the details of the news Coronavirus: Stories of loss of smell unrelated to Covid-19 for this day. We hope that we have succeeded by giving you the full details and information. To follow all our news, you can subscribe to the alerts system or to one of our different systems to provide you with all that is new.

It is also worth noting that the original news has been published and is available at saudi24news and the editorial team at AlKhaleej Today has confirmed it and it has been modified, and it may have been completely transferred or quoted from it and you can read and follow this news from its main source.